FROM THE HORSE'S MOUTH – April 2015 Edition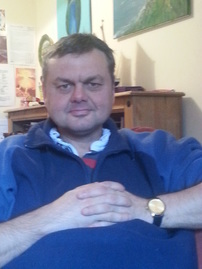 Hello,
I hope you are well. Here is the April edition of my magazine which I hope you enjoy reading. Please remember that anyone can contribute to the magazine either in words or images as long as they are not offensive. To submit things for the magazine please send them to: deancharltonmag@gmail.com   Thanks, Dean.
---
  INTERVIEW WITH LADY WHO WORKED WITH ORANG-UTANS
   Please tell us a bit about yourself: I'm called Jo Rice, I'm thirsty-seven and I originally come from Bognor Regis but have
lived in Halifax for eight years. I went to Borneo in 2013 for six months to volunteer for a charity called Orang-utan Appeal UK
which raises money for orang-utans which are victims of the pet trade or have been made orphans by the destruction of the
rain forest. It's a centre in Sabah in the Malaysian part of Borneo aimed at the release of orang-utans back in to the wild.
   How do they raise money? They have an adoption programme and people also donate money. They're quite a small charity
based in the New Forest.
Had you always wanted to work with animals? Yes, I've worked with elephants and lions in Africa and I've always liked orang-utans.
What do you like about them? They're very much like us and their eyes are really soulful.
What were you actually doing in Borneo? I was giving presentations to tourists to educate them about the orang-utans at the centre, taking photos of the orang-utans and monitoring their release.
Where are the babies housed? They are kept in enclosures at night and you take them out climbing in the day to teach them skills normally taught to them by their mother.
Did you get attached to the babies? Yes and my favourite one was called Gelison and I'd already adopted him for my niece before I went out there.
What do the babies eat? Baby formula – and fruit when they are a bit bigger. The older ones eat fruit and vegetables as they are completely vegetarian.
Were you in a building? The charity has its own little chalet in the centre and there's always someone out there doing what I was doing. The centre is in an area of the rain forest and is 25 square kilometres – there is one road in and one road out.
Was it dangerous working with these animals? Well the big males weigh 80 – 90 Kg and have three inch long teeth – they could rip your arm off if they wanted to but they don't.
What's the trade in orang-utans about – meat? No, people get them as pets but can't cope with them when they get bigger so some of them are dumped. Also, the rain forest is being cleared for palm oil so the mothers are killed and the babies are left alone.
Are all the animals released back into the wild? Yes, but some don't go far and hang around the centre for free food because they are lazy!
Did you have to have injections before you went to Borneo? Yes and I had to take malaria tablets.
Did the charity fund your air fare? Yes because you are raising money for them though you don't get a salary.
What is your job in Halifax and were you able to take time off from it? Yes I took time off from working on the Youth Offending Team.
What do you think of zoos? I really like the one at Doncaster where they rescued lots of lions from being ill-treated in a Romanian zoo – they have a massive enclosure, a little waterfall and lake and look really happy. I do think there are some good zoos out there.
---
MY NOT VERY SERIOUS STAR SIGNS
Scorpio 24 Oct – 22 Nov
Someone will try and teach you in a few hours, what took them years to learn, but be firm and polite and explain that you need time to absorb the information. Remember Castleford was not built in a day.
Sagittarius 23 Nov – 21 Dec
Don't be taken in by celebrities who will do anything for money. A man with a mouth organ may be in tune with your feelings. Remember a geek is better than a yob.
Capricorn 22 Dec – 20 Jan
A child needs reassurance this month. Don't let your hang-ups affect another person who is only trying to express themselves. Eat less chocolate and crisps.
Aquarius 21 Jan – 19 Feb
A magical person who has few possessions may shine the light on a new path for you. It is time to fight your corner and stop letting people taking advantage of you.
Pisces 20 Feb – 20 Mar
Someone who you helped a lot in the past may come into big money but don't expect any help back. Life, in general, will start to improve for you this month.
Aries 21 Mar – 20 Apr
Don't be too harsh on a heavy drinker who makes a fool of themselves this month. Remember a landlord is only your friend when they are getting your money and until they think you've had too much to drink.
Taurus 21 Apr – 21 May
Remember it is better to give than receive – or so say those who are receiving. Fried bread may hold the key to a happy but short future.
Gemini 22 May – 21 Jun
You should get a collie dog as it will blossom into a fine friend. In addition, buy flowers for a loved one without having an ulterior motive.
Cancer 22 Jun – 23 Jul
Cherish the little acorns in your life as they hold the key to happiness in the distant future. Consider shaving off one eyebrow to give you a distinctive look.
Leo 24 Jul – 23 Aug
If someone asks you about your musical tastes, don't be afraid to admit that the Beatles are still one of your favourite bands. Remember quality lasts the test of time.
Virgo 24 Aug – 23 Sep
Be careful about blowing your own trumpet as this may put people off of you. Be aware that we have differences but we are all basically the same.
Libra 24 Sep – 23 Oct
Alcohol is a cruel mistress this month as she leads you into grave difficulties. Try and do something creative with your spare time even if it costs you a bit of money.
---
   SOUPS FROM JUNE CHARLTON
    Chunky Tomato Soup (serves 6 – 8)
Ingredients:
3 chopped onions
3 diced carrots (1'')
3 diced celery sticks (1/4")
2 fl oz olive oil
1 oz unsalted butter
1 bay leaf
1 large garlic clove
2 lb ripe tomatoes (preferably plum)
1 – 11/2 pints of vegetable stock
Small chopped bunch of tarragon
Tomato puree (optional)
Salt and pepper
Method:
Sweat the chopped onions, carrots and celery in the olive oil and butter for a few minutes.
Add the bay leaf and garlic and cook for a few more minutes.
Cut the tomatoes into 8 pieces. Add them to the vegetables, cover the pan, and cook gently for about 15 minutes. The cooking will create its' own steam and slowly cook the tomatoes. The mixture must be stirred occasionally which will help the tomatoes to break down and start to create the soup.
When the tomatoes have softened, start to add the stock just a ladle at a time until you have a looser consistency. The soup can be as thick or as thin as you like.
Leave it to cook for a further 20 minutes.
Add the chopped herbs and check for seasoning – you may find that a little puree will strengthen the taste.
THE SOUP IS NOW READY TO SERVE
Parsnip Soup
Ingredients:
At least 4 oz of chopped onion
2 oz of butter
1 lb of parsnips
1 tablespoon of flour
1 teaspoon of curry powder
2 pints of stock
Method:
Melt the butter in a large pan then gently cook chopped onion and add the diced parsnips. Cook gently for a few minutes.
Add the curry powder and stock and simmer until tender. Add blended flour and cook for 15 minutes – make sure the parsnips are tender.
Put in a blender to liquidise.
Serve with cream and chopped chives if available.
Leek and Potato Soup
Ingredients:
1 lb of leeks
2 oz of butter
1 lb of potatoes
1 1/2 pints of stock
Seasoning
Chopped chives
Method:
Melt butter, clean leeks and slice finely.
Cook gently in butter until soft but not browned.
Add roughly diced potatoes, seasoning and stock and simmer gently for 20 – 30 minutes until potatoes are softened, stirring occasionally.
Serve or put in a blender until smooth.
SERVE WITH THIN CREAM, CHOPPED CHIVES OR GRATED CHEESE.
---
Please Help to Keep The Magazine Free by Viewing the Site Below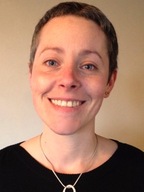 INTERVIEW WITH FLO INGRAM
Flo, can you tell me a bit about yourself? I teach British Sign Language level one and two and I also teach Animal Care BTEC.
How many sign language levels are there? There are currently one, two, three, four and six.
Where do you teach sign language? Calderdale College in Halifax.
Do you think it is an important subject? Yes I do. It should be for everyone and it should be free for everyone; it should be taught from Primary School upwards and you should be able to choose it as an option for GCSE – the best time to learn languages is as a child.
Are there a lot of deaf people in the UK? Yes over ten million – either born deaf or who become deaf.
Do you think British society is prejudiced against deaf people? Yes, compared with countries like the US where they learn it in schools, universities – even places like dentists have people trained in sign language. There is even a university dedicated to deaf people which produces highly qualified professionals. In England deaf education is just not up to standard.
Do deaf people in the UK go into higher education? Yes, but only if they have the right start in junior and high school. There is no legal requirement for deaf education and even if you get support it is only for two or three hours a day and a school day is six hours.
How can society as a whole be more considerate to deaf people? Be more knowledgeable about deaf issues, deaf culture and deaf ways. Most people aren't born deaf and it is not hereditary – we need more DEAF AWARENESS.
What got you into teaching sign language? I worked in the NHS Medical Records department for fifteen years and whilst I was there I met a profoundly deaf girl called Katie who inspired me to learn sign. I bought the massive BSL (British Sign Language) Black Dictionary and took it with me on a caravan holiday and taught myself what I could and came back and practised with Katie – who had had no-one to talk to. Then, after two years, work funded me to go to Calderdale College to study sign language.
---
The following article first appeared in this magazine in 1993 and I am including it in this edition to show how cancer can be treated and that in 2015 I am still alive!

LET'S TALK ABOUT CANCER
I first went to my local G.P. after friends and family expressed concern about a lump in my neck – the doctor said he thought it was probably a cyst, but he felt it would be wise to get it checked out at Pontefract General Infirmary. So I had a biopsy and was told quite quickly that I had a cancer of some kind, but that further tests would be carried out to see
 which
 cancer it was.I was summoned back to the PGI and told that I would have to go to St. James's in Leeds for some scans and that resulted in me going to Cookridge Hospital.I went to see a Consultant called Dr Stone (who retired in January of this year) and initially, from the limited information he had, he said that I might have Non-Hodgkin's Disease which is much more serious that Hodgkin's Disease. So for about an hour me and my dad walked around the hospital grounds and discussed dying. Fortunately, Dr Stone then saw us and in a really excited voice said that he was pretty sure it was Hodgkin's Disease, and that he was confident that if I had radiotherapy straight away then we could get rid of it.So the day after this diagnosis, I went back to Cookridge Hospital to be marked up for protective plates for my lungs and kidneys etc. Other tests on my bone and blood were done to see if the cancer had spread there but everything else was alright.Dr Stone advised me to become an In-Patient so I wouldn't have to travel every day for the radiotherapy, but I wasn't keen on the idea as I wanted to keep on working for I felt very creative at the time. Thus, I decided to take six buses every day instead on being in the hospital all of the time.Before my treatment started I travelled twice down to Nottingham City Hospital to put some sperm in a sperm bank as I was told that the radiation might damage me although this was very unlikely. Best to be safe than sorry I thought as I intend fathering sixteen children and I want them to be okay.I was told that I was going to have twenty treatments (one every working day of the week for four weeks) before my case would be reviewed. But after eleven treatments I was suffering with very, very, bad radiation burns under my arms and around my neck and I had a viral infection. Also I was tired with working and travelling, and to top it all, there was the problem of water dripping onto my bed through the ceiling of the flat I rent – which didn't help matters much, so as I was so ill I reluctantly went into Cookridge Hospital.In hospital I had to see the Dietician who described me liquid foods as I could hardly speak – never mind swallow. But after eight days in hospital my mental health started deteriorating and although they had given me a private room, I couldn't bear it anymore and discharged myself. I did however, finish my treatment as an Out-Patient although I then had to go to the Chest Clinic in Leeds as I had a recurrent cough due to my lungs being slightly burnt by the radiotherapy. I still have regular check-ups but I'm now cured and enjoying my life knitting pullovers for my future offspring.
---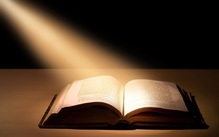 WHY A BIBLE-BELIEVING CHURCH?
Written by Rumbidzai Mapanga
Romans 10:17 [So then faith comes by hearing, and hearing by the word of God.
A friend of mine Tatenda who is a new Christian asked me the following questions: Why do I need to attend a bible believing church? And what's wrong with attending a church which does not teach or believe in the bible? How will I know if a church is a bible believing church?
Today I will only look at "Why a bible believing church?" I will address the other ones in future. I definitely can relate to Tatenda and I believe most of us have asked ourselves this question in one form or another.
If you are like me or my friend then you need to understand that going to church on its own is good as the bible says do not forsake the gathering of saints. However, it's important to note that the purpose of going to church is not to have social gathering but to get a feeding of the word of God so as to increase our faith in the things of God.
Thus, it is important to choose the right church to go to for not all churches or gatherings have the same agenda. Some might appear to be like the gathering of saints but are not preaching the uncompromised word of God. Know that whatever word you hear will shape what you believe. This is true as humans we are influenced by the environment in which we live, as well as the word spoken over our lives. Studies have shown that children who grew up with parents who told them that they will never amount to anything are likely to perform less well in their academic studies, sports activities and all other areas of life than those whose parents believed in them and told them to reach for the sky. The words spoken to them have shaped their life's views and how they look at the world.
The above verse clearly explains that before trust (faith), you have to listen. But unless Christ's Word is preached, there's nothing to listen to. For it is only the preached word of God which will bring faith not what man thinks. By planting yourself in a bible believing church where the word of God is taught with simplicity and understanding you are empowering yourself to get the wisdom of God not that of man.
Proverbs 4:7 say the first step to becoming wise is to look for wisdom, so use everything you have to get understanding. I totally believe that being in a church which preaches the uncompromised word of God will open the door of understanding of whom God is and His way of doing things which will bring faith. If as a Christian you want the word of God to shape your life then it is of great importance to sit under the preached uncompromised word of God. For the word which is spoken to you will enter your heart and out of the fullness of the heart the mouth will speak and you will have what you say.
---
  LET'S HEAR FROM A LADY IN NEVIS
My name is Nicolla Fraser. I was born on December 12th, 1991. I have spent all my life so far on a small    island in the British Eastern Caribbean called Nevis. I would describe Nevis as a nice island where one
can go for relaxation and a cool fresh breeze with beautiful scenery. To me, Nevis is not so populated so
businesses find it a bit hard to flourish here. I am presently completing my final semester of the Teacher
Education course under the University of the West Indies in St. Kitts.
I enjoy teaching young children and I have been teaching since November  2010. In my spare time, I enjoy doing adventurous things as well as spending time with family and friends. As a child growing up, I participated in many sporting events which included track and field, netball and soccer. Having said all that, In June 2012, I was faced with a terrible time when my mother passed away. This is continuously hurting me and I still sit and cry sometimes. With this sudden death, I have come to realize that I have anxiety and mild depression. However, I pray to God and ask and thank him for his help. Fortunately, my family members abroad are assisting me and my other siblings on a regular basis. To this end, my future hopes are to become more involved with people as I enjoy conversing with others. I also see myself as a counsellor or a psychiatrist while I continue teaching.
---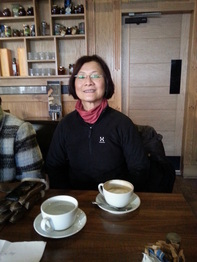 INTERVIEW WITH HUI MING
Where do you come from Hui Ming? I come from Singapore which is 16,000 miles from England and sits near the equator. It has Malaysia, Thailand, Indonesia, Taiwan and Hong Kong as neighbours. I am a Buddhist.
How long have you been In England? Twenty years since 1995.
Did you live in Singapore before that? I lived in Singapore before I got married although I lived in Japan for half a year in the eighties.
What were you doing in Japan? I was studying the Japanese language.
How did you come to be in England? I married Robert who is an English man – we were introduced in Stratford-Upon-Avon by a mutual friend. Robert is a raw vegan.
What do you do with your life in England – have you any family here? Yes I have Robert and our sixteen year old daughter Isabel. Isabel attends Crossley Heath Grammar School in Halifax; she was born a vegetarian and is a very good girl.
But what do you actually do with your life? I have just got a part-time job as a Support Worker with Age UK which was formally Age Concern.
Do you think England is a good country to live in? Yes but we've moved around a lot. We got married in Hull, lived in Cardiff, spent two years in Singapore, and lived in Shropshire before moving to Halifax. We then spent seven or eight years in Halifax and now have lived in Todmorden for two years.
Is there anything you dislike about England? Like all places it is okay as long as you have friends and family. I do dread the winter although I have learnt how to prepare for it.
Do you particularly like anything about England? Yes, the majority of people are nice – but maybe those who are not have their reasons why they are not nice to you.
---
PHOENIX HEIGHTS
By Sheridan Wardell
Phoenix Heights voluntary group began in 2010 when two or three heads were put together and wanted an affordable and local solution to their artistic quests and needs.
Phoenix Heights was chosen as the name of the group because it is the name of the area that the founders were residents of – that area around the lower end of West Street, Sowerby Bridge.
It is an area that has quite a dense population yet had little cultural activity available.
The Phoenix Heights Group was funded by Calderdale Council during 2010/11 and 2012/13 and a series of workshops in writing, poetry and hat-making were made possible as a result.  Also weekly art sessions for local artists were presented throughout for the people of Sowerby Bridge.
Exhibitions of art work were displayed at Cup Cakes Coffee and Breakfast House, in West Street, throughout 2014.  Local people and visitors to the area could enjoy breakfast and coffee whilst surrounded by a wide variety of artistic talent, causing a good deal of comment and was so successful with local people – Artists and customers – that there are further exhibitions from March 2015 and throughout the Spring and Summer till the end of September.
These exhibitions are for those new to art as well as more experienced Artists; for people of all ages and experience, and they give an opportunity for artists to be introduced to the exhibition process and exhibit before an audience.  This gives the Artist more confidence to move forward to other works, perhaps a bigger venue with exposure to a larger or more discerning audience.
An application form can be obtained by telephoning us on 07762884135.
The venue "Cup Cakes Coffee and Breakfast House" offer the opportunity to cater hospitality for a "vernisage" or viewing by the artist's guests and private parties.
Thursday afternoons at the cafe from 1-3 pm provide an opportunity for crafts sessions and knitting circles and an opportunity for a bit of a social and, of course, coffee and a cup cake.
In March 2015 Phoenix Heights was chosen as the voluntary group supported by Waitrose Supermarkets through their "Community Matters" programme.  The generous gift led to a body of art work which will be on exhibition very soon.  Many grateful thanks to Waitrose for their support.
On Wednesdays of April the 1st and the 8th we mounted a parent and child "Pre-Easter Fun" day offering a number of activities – decorating a Cup Cake, face-painting and Easter egg decorating and Easter card making –  Lunch and refreshments were available to order too!
Art – drawing and painting – Courses will be on line throughout the year so follow us on Facebook (look for our Logo) for bulletins about activities and dates.  Alternatively, you can call in for more information or let us know by text what course you are waiting for us to put on for you as we are very open to ideas (07762884135).   We are very happy to welcome volunteers who would like to work alongside us.  We have a management team that needs people with enthusiasm so our corner of the world can thrive!
---
   FEAR VERSUS THE VOICE OF GOD
     By Revonda Wiseman
Fear speaks loudly
God speaks softly
Fear brings worry
God brings Peace
Fear is a lack of faith
God wants us to have faith
Fear says there's no way
God says I am the Way
Fear destroys
God Heals
Fear divides
God Loves
When fear speaks to you, what does it tell you?  Do you listen and heed its' voice?  Do you mistake it for the Voice of God?  Does it drive you?  Where does it lead?  Fear speaks loudly, often driven by our own self-image that we want to keep, how we desire others to view us, past hurts that we want to avoid, lies of the enemy, our own views on the way life should be, and many other reasons.
When fear speaks it is often confused to be the voice of God, but yet it is the opposite.  When fear is present, faith is lacking.  Fear brings nightmares, uneasiness, worry and heartache.  It prevents us from fulfilling God's plan. It destroys relationships, jobs, ministry and you.
God's Word tells us in 2 Timothy 1:7 that God did not give us a spirit of timidity, but of power, of love, and self-discipline. His Word plainly states that fear is not of Him.  When God warns of danger, He will provide you with steps to take you through the danger, or around it.  His Word tells us that "in this world you will have trouble, but I have overcome the world."  His Word also tells us that He will never leave us or forsake us." God is a God of Love, Peace and Joy.  He didn't give us fear.
Sometimes when God brings these warnings we allow fear to take over, but God didn't bring the fear.  Fear is a sign that a lack of faith and a lack of trust in God is present. When fear takes over it clouds out the peace that God intended.  It can drown out the directions that God gave.
Sometimes these steps to take are not given instantly or all at once, but one step at a time.  His Word tells us that without faith we can't please God.  Taking these steps directed by God without knowing where it leads takes faith, the kind of faith that pleases Him. Once through the storm, lessons learned, a new boldness, more strength, and a desire to minister to others is now present.
Since fear is so destructive and not of God, don't impose your convictions and fears on others around you.  God knows how to guide and lead.  Follow His example; even He won't go against the free will that He gave us.  Allow God to do the work that only He can do.
When fear comes knocking I encourage you to give it to God. Seek His face. Seek His directions. Seek His peace.  He is there.  Allow God's peace to flow, and Follow the path He's laid out before you.  The storms and valleys are hard but He is there with you every step of the way.
---
ANOTHER RECIPE FROM THE FOOD LADY ALISON JONES
Its official! We're springing into warmer weather and getting on with growing those easy veg crops for the first of our seasonal cooking sessions. Our Spinach has been thriving in our ploy tunnel since February. So here's my Food Inspirer recipe for April:
Skillet Gnocchi with Spinach or new season sprouting Broccoli with Cheese
Makes: 6 servings
INGREDIENTS
·         1 tablespoon plus 1 teaspoon extra-virgin olive oil, divided
·         1 x 16oz vacuum packaged  gnocchi,
(Found near pasta or Italian section)
or cheaply make your own following the simple recipe.
·         1 medium yellow onion, thinly sliced
·         4 cloves garlic, minced
·         1/2 cup water
·         6 cups chopped spinach, (about 1 small bunch) or sprouting broccoli
·         1 x 15oz can diced tomatoes with Italian seasonings
·         1 x 15oz e can white beans, rinsed
·         1/4 teaspoon freshly ground pepper
·         1/2 cup shredded strong tasting cheese (1/4 cup fresh Italian parmesan )
PREPARATION
Heat 1 tablespoon oil in a large non-stick skillet over medium heat. Add gnocchi and cook, stirring often, until plumped and starting to brown, 5 to 7 minutes. Transfer to a bowl.
Add onion to the oiled pan and cook, stirring, over medium heat, for 2 minutes. Stir in garlic and water. Cover and cook until the onion is soft, 4 to 6 minutes. Add spinach and cook, stirring, until starting to wilt, 1 to 2 minutes. Stir in tomatoes, beans and pepper and bring to a simmer. Stir in the gnocchi. Cover and cook until sauce is bubbling, about 3 minutes.
Spoon into bowls and Sprinkle over cheese while still hot.
 
Homemade Gnocchi     serves 4
·         500g new potatoes
·         200g plain flour.  With pinch of salt and pepper
Peel and boil the potatoes as you would usually and then mash them. You really need to work those lumps out. You need a smooth mash. Now place in a bowl, season well with salt and pepper and hand mix the flour into the mash – the mixture will begin to form into dough. Once you have a dough, turn out on to a dusted surface and knead for two minutes (not too rough), then break off the dough into three pieces and roll into three sausage shapes (about 3cm in thickness) and then cut the sausage shapes into pieces around 2cms in length. Set to one side for use later.
---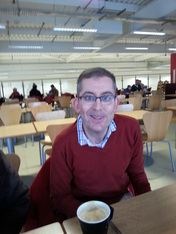 LET'S HAVE A WORD WITH STEVE JOHNSON ABOUT HIS SIGHT
 I understand you are losing your eyesight – how come? This apparently goes back to operations I had in 1976 and 1977 to remove congenital cataracts from my eyes and my specialists believe that they were the operations that may have caused my glaucoma.
Have you always had trouble with your eyes? Yes, it's stabilised for some time from the aforementioned operations 1977 to about 1990 and then I first noticed the deterioration of my eyes when I was learning to drive – the driving instructor was very concerned as I couldn't read the number plate of the vehicle in front. I was twenty.
Do you live alone? I do and I cope living alone; I've lived on my own for seventeen years so up until now I've never really needed much help – I still don't to a great extent.
Do you have any special visual aids in your home? I do now since glaucoma was diagnosed – I have little coloured markers on my hob, washing machine and the thermostat on the central heating.
Do you work? I most certainly do. I've worked for Bradford Council for over 23 years; I started at the Dog Warden Service and my current role is in the Land Charges Team at Jacob's Well in the middle of Bradford. Anything to do with property needs to be logged through me. Also, the council have had Zoom Text installed on my computer to magnify my screen and thus allow me to work.
Will you be able to work in the future if your eyes get worse? I'm hoping so. I'm trying to maintain the little eyesight I've got left by using eye drops on a daily basis. When I saw a specialist in December, my eye pressure was 45 but with the use of the eye drops it has dropped to 13. But unfortunately, medical science is not able to cure my condition through operating on it.
How do you see your life changing in the future if your eyesight gets worse? I take an optimistic and pragmatic view and hope my eyesight doesn't deteriorate and I end up blind. However, there is no suggestion from specialists that I will go blind if I maintain my eyes through the drops. I'd like to add something I heard on a radio four program called 'In Touch' the problem is: frustrating, challenging but never boring.
How have people reacted to your white stick? It's been eye-opening; I really thought in this incredibly rude and selfish society that kindness had been lost – but apparently not! It's been heart-warming how people help me as I'm walking around town – help me cross the road and locate kerbsides. I really appreciate people's help.
---
WHISTLING PETE
Lyrics by Dean Charlton
Peter is different to some people you'll meet
For he always whistles when he's speaking to you.
He buys sweets and lollies to give to the children
Talks about clotted cream he has sent from Cornwall.
Peter is a sad man now that he is alone
Talks about his dead wife whenever he has chance –
No-one can replace her of that he is so sure
He makes do with watching girls on his video.
Thank God there are some people like our whistling Pete
Though he never gets to sing the main melody
It's people like our Peter who add so much to life's song
Thank God there are some people like our whistling Pete.
Peter is an ill man – he's had a heart attack
Isn't the man he was though he still tries to smile
And you'll still see him out with his old shopping bag
Feels he must carry on though he doesn't know why.
(From the album: If you see me in Heaven by From The Horse's Mouth)
---
  DEAR ELIZABETH
   Lyrics by Dean Charlton
I don't mean to be rude Elizabeth
When I say to you, you are off your head
If you think you will ever rule my heart
For I can't accept that I'm a second class male
Just because I've got no letters after my name no –
I don't mean to be rude Elizabeth
When I say to you, you are not all there
If you think you will ever rule my mind
For I don't believe that I'm just not up to scratch
Just because I don't long to climb up your ladder.
Dear Elizabeth, please try to understand
You're only a woman and I'm only a man.
Dear Elizabeth, please try to understand
You are richer than me, but we both sit on a throne so
I don't mean to be rude Elizabeth
When I say to you, you have lost your mind
If you think you will ever own my soul
And to tell you the truth, I feel sorry for you –
You have all that money, but you can't ever change.
(From the album One Foot In Front Of The Other by From The Horse's Mouth)
---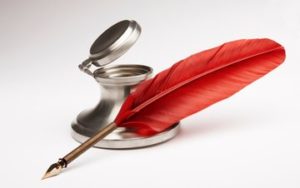 LETTERS PAGE
Dear Editor
I have been a taxpayer for most of my life and think it is about time someone spoke up about unregulated buskers who can make a routine shop a nightmare. I think it is wrong that buskers are often claiming benefits yet earn apparently untaxed and undeclared income – how is this fair? Also what gives them to right to amplify their sound in the street and thus make it almost impossible to ignore them? Do the songwriters who write the songs they sing receive any royalties?
S. Slater, Norwich.
Dear Editor
I am a reformed drinker and now spend a lot of time in the various coffee shops in my town. I suspect many people think that these shops continually overcharge for coffee and disregard the rights of coffee producers. Does anyone else agree with me?
F. Noble, Manchester
Dear Editor
Do you not think it is about time that the public knew where MPs have their private money invested so that we know how impartial they really are?
F Clunes, Leeds
---
BODY CODE HEALING FROM MAGGIE PASHLEY
The Body Code and the Emotion Code are powerful forms of energy healing. Each is a way of uncovering the underlying emotions behind any emotional or physical condition, and then clearing it easily on an energetic level without needing to go into the drama or story – it's simple, clean and effective.
I've cleared Heart-Walls, and clients have experienced feeling more creative and loving. People have suddenly found themselves in relationships. A recent client who had been despairing of her partner being committed to her did some Heart-Wall clearing and found him relating to her in a whole new way, being more romantic, wanting to take her on holiday and actively courting her. This works!
Body Code and the Emotion Code has become my favourite way of helping people as I have been so impressed by the profound changes it can bring about, and that is coming from somebody who has amassed a fair amount of different methods over the years, ranging from hypnotherapy, EFT, NLP, shiatsu, Reiki, crystal healing, metamorphic technique and more.
Feel free to call me or e-mail to discuss how any of my sessions or workshops can benefit you.
E-mail me on maggiepashley@gmail.com
Telephone: 01535 957493 or 07939118136. I am based in West Yorkshire and work from my home in Silsden.
I conduct many of my EFT, Emotion Code and coaching sessions over the phone anywhere in the UK – or internationally via Skype. Please ask for details.
---
SACRED EARTH – A NOVEL BY MICHAEL CONNEELY
Liam finds his life path in vision, ritual and living close to the earth. He leaves his cold and ambitious father who cares only for exam results and career and joins a protest group dedicated to saving a Bronze Age Stone Circle threatened by the start of quarrying near-by. In confronting the forces of greed, money, law and order and establishment, to whom an ancient sacred site is valueless, Liam is forced to make a choice: whether to risk his liberty in joining the protest or turn away out of fear. In defending the sacred earth, he discovers the Vision Realm, love and family. His life will never be the same again.
Read Michael Conneely's novel Sacred Earth, available in paperback and Kindle from Amazon.
---
Astrology Forecast April 2015Here are some 'Astrology keynotes' from Michael Conneely for the Month of April 2015.
This April 2015 Forecast just picks out the most crucially affected signs and planets.
Aries: Coming soon after the Eclipse of March 20th, we notice immediately there are an exceptional four planets in the western astrology sign of Aries on the first day of April 2015. These are as follows:
Mercury 2 deg
South Node (Ketu) 10 deg
Sun 11 deg
Uranus 16 deg.
So we start off the month of April with a 'hurricane warning'. There will be  violent, impatient, sudden even melt-down energy experienced by those with Sun or planets in their birth chart at around 11 Aries.
I know a couple of people with Sun around this degree who also have Mars in Aries as well as Sun, and the word 'irate' immediately comes to mind!
Other suitable words would be 'explosive' or 'driven', and those with planets around 11 Aries, can expect major sudden change, including breakthrough insights, even melt-downs. Seriously though: don't catastrophize. Don't give in to the easy cataclysm of breakdown and breakup!
And I mention people with Mars in Aries here because actually the planet Mars has already been transiting through the sign of Aries all the preceding month of March 2015 – all the month previous, making these people angry and driven and even dangerous. Mars transited from 6 deg Aries on 1st March to 0 deg Taurus on 1st April.
Are the rest of us safe?
And what about people like me with three planets in charming, nice Libra which are exactly opposite the April Aries holocaust??? How safe are we?
Seriously though, the very great imperative for people affected by these violent energies of April 2015 is to stand back and observe the play of events. Observe the rage of feelings; observe the race of the mind. You are not your emotions. You are not the chatter of your mind. Stand back. Practise daily meditation. Don't engage. Count to ten! The way to handle the energies is to note them, discover their crucial message for us in our lives, use them as important sign pointers so that we can do the work we are here on earth to do, value them so that we can make the achievements we are here on earth to do, but don't engage with them blindly. Don't get sucked in. Detach. Observe. Honour them. See where they are pointing to! Aim to remind yourself to develop clear objective vision all this month.
In the realm of mundane affairs, Aries sun signs should keep life very simple in April. They should only attempt the minimum of projects. In loving relationships, be careful not to bring about breakup. Keep calm!
Taurus: Venus and Mars are transiting through the sign of Taurus in April 2015. Mars starts the month at 0 deg Taurus and ends it at 22 Taurus. Venus starts the month off at 18 Taurus, enters Gemini on 12th April and ends April at 22 Gemini.
But remember, Venus and Mars are not a good combination. Their energy together is steamy and even irate. Venus seeks love and harmony. Mars is a warrior. Venus is a benefic; Mars is a malefic. Malefics are not good for relationships; they are good for getting things done. The Venus and Mars relationship is not friendly; it's more a case of neutral at best. So Taureans can expect arguments in love for the first third of April, and disharmonious release of tensions in the second third.
Again, the key thing is to expect this, be detached from it, and share closely with loving partner. In work and finance, take it steady.
Scorpios (and people with planets in the later degrees of Libra) are having a generally tense time all 2015. This is because the North Node (Rahu) is transiting in early Libra (it retrogrades from 10 deg to 8 deg Libra this month) and because they have Saturn the other side of them retrograding very slowly (and therefore powerful in its effects) from 4 deg to 3 deg Sagittarius. In other words, their Libra planets are hemmed in by malefics.
Capricorns however are having a good time. They are being offered long-delayed empowerment and positive transformation, especially if they have Sun around 15 deg Capricorn, where the planet Pluto is transiting this month.
Neptune moves from 8 deg to 9 deg Pisces, bringing big transformations to the Virgo sun signs opposite. Positively these Virgoans are experiencing the Neptune energy as sensitively, vision and intuition, but if their level of consciousness is not high enough, they will experience this energy as illusion, confusion, denial, lies or even alcohol.
Chiron, the Wounded Healer transits from 19 deg to 20 deg Pisces, strongly affecting you if you have your Sun or other major planet in that part of Pisces, or the part of Virgo opposite this.  How Chiron affects our lives depends very much on whether we resist its influences or we try to work with its energies. Chiron acts to open up wounds in the parts of our lives and of our psyches that it touches, and then Chiron asks us to work on healing them. Initially, these Chiron transits can make us feel weakened or ineffective so that we learn what is keeping us wounded as the transit progresses. This gives us the chance to heal ourselves.
Having mentioned the key signs and planets for April 2015, let's turn to make a note of Retrograde planets for April 2015 planets with apparent backwards motion in the heavens:
Jupiter is retrograde from 09 Dec 2014 to 09 Apr 2015 at 12 deg Leo this month. When Jupiter is retrograde, we are called to question the adequacy of our spiritual teachings and our spiritual teachers. We ask questions about our own creativity and enlargement and self-expression. Once Jupiter turns direct, we put our new-found questioning into constructive manifestation.
Saturn is Retrograde from 4 deg to 3 deg Sagittarius this month, retrograding from 14 Mar 2015 to 02 Aug 2015. Saturn retrograde makes us reorganise our foundations and structures. Define your boundaries. Commit where you should. Say 'No' where you need to do that.
Pluto is Retrograde   17 Apr 2015 to 25 Sep 2015 at 15 deg Capricorn. When Pluto is retrograde, we are compelled to eliminate and release what is old, outworn, outdated and obsolete in our lives. We can bottom out and then arise reborn! At this time our powers of regeneration are increased and we are better able to bring healing to physical and psychological illnesses that have been affecting us.
Moon Phase:  April 2015
Full Moon on 4th April 2015 at 12.06pm at 14 deg Libra. It is a partial Lunar Eclipse in UK. Most of North America, South America, Asia and parts of Australia will be able to see the eclipse.
New Moon on 18th April 2015 at 28 Aries.
So, I hope these few notes on the western astrology of April 2015 will be helpful, practical and empowering. Have a look at my new website featuring my local readings: www.starwheelastrology.com I am really pleased with it! I hope you will like it and get in touch for a reading!
​Alternatively look at our Astrology Shop for readings and much more
---
Editor's Final Word:
I hope you have enjoyed reading the April Edition of From The Horse's Mouth –  and as ever you are very welcome to contribute to a future edition by contacting me at: deancharltonmag@gmail.com.
In the next edition, amongst other things, we will hear from a British Asian Muslim and a postman talking about the privatisation of the Royal Mail.
Thanks. Dean.