FROM THE HORSE'S MOUTH
 – August 2016 Edition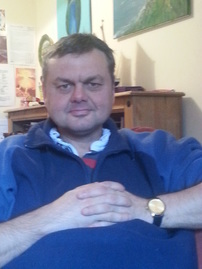 Hello.
So Britain has voted to leave the EU! – how do you feel about this? This magazine continues to grow and I am grateful for this. I am also grateful to all the bus drivers and taxi drivers who drive me around and help make the magazine possible. Anyone can submit things to be included in this magazine, and if you would like to, please send them to us as at: deancharltonmag@gmail.com  Dean.
​
​
---
MY NOT VERY SERIOUS STARS


​
Scorpio 24 Oct – 22 Nov
This month you may have a slight chill but it will soon pass leaving you feeling much better and appreciative of your health. A scantily clad woman will try to lead you astray but resist the temptation if you know what's good for you.
Sagittarius 23 Nov – 21 Dec
It might be worth investing in a new bicycle when you get paid this month. You may be dreading a doctor's appointment, but don't worry, as you will be given a clean bill of health and you will be free to resume abusing your body. Don't regret what you voted for as this will be for the best.
Capricorn 22 Dec – 20 Jan
A religious fanatic will try and win you around to his way of thinking but be strong and continue to think for yourself. A black poodle would be a good addition to your life. Invite someone you fancy out for a posh meal but don't expect anything in return.
Aquarius 21 Jan – 19 Feb
It is time to refrain from burning the candle at both ends and have a few early nights. A holiday in Spain would be beneficial to your health and that of your family. Consider having solar panels fitted to your house as the sun will obviously outlast fossil fuels. A religious fanatic may come into your life but tolerate him as he has certain qualities.
Pisces 20 Feb – 20 Mar
This month you will start to reap the rewards for all the good things you have done for others over the years. An older man may be able to help further your career but be careful of his motives. Try soya yoghurts and consider giving up dairy.
Aries 21 Mar – 20 Apr
You must really do something about your poor level of fitness – do start walking more every day. A friend's wedding may make you take a long hard look at your own life and realise you are not really very happy with being single. A taxi driver may irritate you but keep your cool.
Taurus 21 Apr – 21 May
You are made to focus on your own mortality with the death of an old school friend this month. Money is a problem at the moment so tighten your belt and brace yourself for a very rough ride. It is a good idea to try to be less judgemental.
Gemini 22 May – 21 Jun
The breakdown of a work colleague will give you food for thought and make you reconsider your priorities. It is a good time to change your breakfast cereal and switch to goats milk. Don't be surprised if a lover suddenly dumps you but this could be a blessing in disguise.
Cancer 22 Jun – 23 Jul
Make a conscious effort to use social media less as it is taking over your life – try and see friends face-to-face if it is at all possible. A pagan may shine some light on your recent problems. Sardines may change your life for the better.
Leo 24 Jul – 23 Aug
A birthday gift may be rubbish but be too polite to say anything to the giver. You may have an idea for a new venture but proceed with caution. Your car may cost you a fortune this month so maybe you should consider using some other form of transport?
Virgo 24 Aug – 23 Sep
Don't be shocked if someone you admire does something dishonest this month – but he may have his reasons. A bad hangover may make you consider bringing your drinking career to an abrupt end. A mouse may make you realise how amazing life on this planet really is.
​
Libra 24 Sep – 23 Oct
A foreigner may be keen to put out your fire this month so give him the opportunity. It is time to look at your expenditure and find a cheaper, if less enjoyable, way to live. Drink less coffee and more fresh orange.
---
Advertising in From The Horse's Mouth (it's free for a time)
Okay, so perhaps you are interested in Advertising FREE with this wonderful magazine. Or, on the other hand, perhaps FREE stuff does not interest you at all !! If you are interested in Advertising with us then send your details with any information you would like included in the ADVERT and we will place an advert on our ADVERTISING PAGE
To do this simply email Dean with all your details.
Advertising will be FREE during 2016, in 2017 we hope to include the Advertising within each month's Magazine content.
---
A QUICK CHAT WITH LILLY
What's your full name Lilly? Lillian Janet Briggs.
What's the name of your project? The Real Junk Food Project Calderdale.
Why did you start the project? We started it in January 2016 following the floods in Hebden Bridge. We had this café space from the Valley Organics Shop and we wanted to run a café and also wanted to stop food waste. Alison Jones came to me and asked if I had heard about The Real Junk Food Project and we both decided it would be perfect for us to get involved.
Who supports the project? Local businesses and food projects like: Valley Organics are supporting by sharing resources/ equipment, Soup Dragon https://www.facebook.com/groups/HebdenBridgeSoupDragon/, Growing Futures and Incredible Edible , Pextenement cheese, Recycle radio , the co-operative supermarket and of course the core group of amazing volunteers and local people spreading the word is creating a real buzz and things are happening so fast.
What does the project actually involve? To start with we are running a café every Thursday in Salem Mills, Hebden Bridge between 12 and 3. We want to extend those hours once we know we have enough people coming in – we are lucky to have been granted low rent to start up the project.
Is this why you ask for donations? Yes although food is donated (we are allowed to buy ten per cent of our food for herbs, spices and salt etc.) we do have rent to pay and so need donations.
You do, do other events at places like The Trades Club don't you? Yes we're also running monthly events here in Hebden Bridge. We're serving food the first Saturday of every month from 12 – 6 30 pm – it's The Real Junk Food Project but in another location with us providing the volunteers.
What are your hopes for the project in the future? I'm hoping that the café will be open at least five days a week with some late evenings for people who work during the day. I hope that at least two members of staff will be paid so that it makes the project sustainable and also provides employment in Hebden Bridge. At the moment we are applying for funding. Our main aim is to stop food going to landfill.
If people want to make a donation or get involved in the project, how can they contact you?
We have active Facebook pages, one for our cafe and one for our volunteers
https://www.facebook.com/RealjunkfoodprojectCalderdale/
Volunteers: https://www.facebook.com/groups/1347295215296383/
and an official email & website: realjunkfood.calderdale@gmail.com
http://therealjunkfoodprojectcalderdale.org.uk/
Of course we hope people will call into the cafe and leave their details and offers too!
See you soon?
---
IRISH LOGIC
We were touring Ireland and after a week cruising the Shannon we left Portumna to make our way to Galway. After travelling several miles I decided to stop and ask if we were on the right road. "No" the man said. "Three miles back you missed a turning off to the right". I said "Yes" I had seen a turning but there was no signpost. "What do you need signpost for" the man said "everyone knows that road goes to Galway"!
---
SUMMER QUIZ COMPILED BY PIRATE FROM THE MOORINGS
 Which fruit grows on palm trees?
 What is the capital of the U.S. state of Hawaii?
 Saint Lucia is an island holiday destination in which sea?
 Which prince featured in the title of the Chronicles of Narnia film released in    the    summer of 2008?
 On a beach, what colours are the flags denoting a lifeguard area?
 The use of what garden equipment is sometimes banned during particularly hot  summers?
 Which of the following would you be unlikely to find in a rock pool? Crab,  Seaweed, Starfish or Salmon?
 Which planet is closest to the sun?
 In which of these countries does Christmas fall in the summer? Canada, Russia, South Africa or Iceland?
Complete the name of this popular ice cream flavour: Rum and
Which actress played Summer in the TV show the OC?
In which month does midsummer's day occur?
How many players compete in a professional beach volley game?
What did Indiana Jones seek in a film from the summer of 2008?
"Soleil" means sun in which language?
The Costa del Sol is a region of which country?
Who had a summer hit in 2008 with Sweet About Me?
Which of these ingredients does a summer pudding contain? Potatoes, Bread,                                  Pasta or Rice?
In a hit film from the summer of 2008, Robert Downey Jr. played a man made of what?
What type of summer clothing is an espadrille?
Answers: (1) Dates, Coconuts, Betel Nuts and Acai Fruit (2) Honolulu (3) The Caribbean Sea. (4) Prince Caspian (5) Red and Yellow (6) Hosepipe (7) Salmon (8) Mercury (9) South Africa (10) Raisin (11) Rachel Bilson (12) June (13) Two (14) The Crystal Skull (15) French (16) Spain (17) Gabriella Cilmi (18) Bread (19) Iron (20) A Shoe
---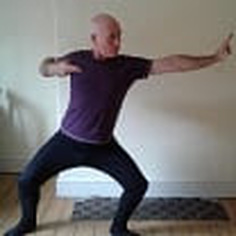 INTERVIEW WITH CHI KUNG EXPERT PAUL
Can you give me your full name please? Paul Connor Kearns.
Can you tell me a bit about yourself? I was born in Oldham and travelled extensively in my younger years and settled in Australia. I stayed in Australia for twenty years and for ten of them I lived with Aboriginal people in New South Wales.
I understand you teach Chi Kung? Yes, and it's basically a breathing-based martial art which has been around three thousand years and has evolved from China; it's the precursor to other martial arts like Kung Fu. In English, Chi Kung actually means 'breath power'. I have taught students in Australia, Ireland and England.
Is it similar to Tai Chi? Yes, but Tai Chi is a bit more of a gentler flowing form. Chi Kung is more about strength, balance and posture – to develop your core strength. Pilates is actually a westernised version of Chi Kung and that too concentrates on building up core strength, but unlike Chi Kung it doesn't focus on correct breathing and everything else which emanates from that. It's true to say that correct breathing is the cornerstone of the discipline of Chi Kung.
Is it a fighting martial art? No not really. You can go down the path of more overt martial arts and there are branches of Chi Kung that are more martial in nature. A couple of the exercises are obviously martial, but the primary emphasis on what I do is on health and fitness – for my students it's primarily for those reasons.
What does someone do the first lesson with you? Well I do both group and one-on-one lessons – English students tend to prefer the group lessons and this may be cultural. What we do the first lesson is teach them how breathing in Chi Kung is in through the nose and out through the nose – it's all from the diaphragm. I get them to practise a particular stature called the Horse Stance when up to a point, you are imitating the posture of someone riding a horse and although you can do it sitting down, this is the best stance for the discipline as it develops your core strength as you concentrate on your breathing.
Is Chi Kung anything like yoga? Yes, as in as much as Yoga concentrates on breathing control, but I think that the emphasis in Yoga is more on stretching although there is a definite overlap – if you have done some Yoga, you are more aware of your breathing and body posture.
In my routine there are eight basic exercises – I start with the Horse Stance and then I take my students through the sequence of the eight exercises. As a new student they would be encouraged to mirror my movements but I would not expect them to synchronise their breathing and movement, although this will develop. There are more exercises you can do further down the line if you want to develop your knowledge of Chi Kung. Interestingly, the Chinese are encouraged to do this discipline from a very young age, and for the first three years, they concentrate on breathing in the Horse Stance until they have completely mastered this part of the art.
What sort of people come to you? All types of people from all walks of life. I've got people who come with back problems, Parkinson's disease and also people who just want to focus on their general health. There is a meditative quality to the exercise involved in controlling your breath and so it helps with stress. Incidentally, the Chinese army still practise Chi Kung to help them become more robust.
Would you like to add anything? Yes. I love both the practice and the teaching of Chi Kung and it gives me great satisfaction to help people help themselves.
If anyone is interested in your work, how can they contact you?
Mobile: 07776755669
Email: pa1connor@hotmail.co.uk
Facebook: pck chi kung
---
FAITH HAS AN ATTITUDE
Written by Rumbi Mapanga
And David spake to the men that stood by him, saying, what shall be done to the man that killeth this Philistine, and taketh away the reproach from Israel? For who is this uncircumcised Philistine, that he should defy the armies of the living God? (1 Samuel 17:26 KJV)
In my previous article I talked about faith with eyes which can see the invisible and today I am going to show you how the same faith which has eyes can give you an attitude of boldness which is beyond human comprehension. A faith that can make you a mere human being moving mountains and performing exploits only because you see well.
Attitude is described in the English language as a settled way of thinking, a feeling, manner, disposition or position about something. It can be used for both positive and negative actions which people do. However I am going to look at attitude as the courage and boldness to dare do what most people think is impossible.
In the above verse David was a mere boy at the time he fought Goliath. If you read the whole passage you will discover that his own brothers thought he was just a mere Shepherd boy who looked after their father's sheep. Unknown to his brothers and family this Shepherd boy knew more about God and had faith in him that even when the seasoned soldiers were trembling in front of the enemy, he was calm, trusting God.
In 1 Samuel 17:37 NKJV David said "The LORD, who delivered me from the paw of the lion and from the paw of the bear, He will deliver me from the hand of this Philistine." And Saul said to David, "Go, and the LORD be with you!"
He was well aware that with his own natural ability he wasn't strong enough to fight, neither was he trained in the arts of war. But he knew whom he believed, the God who had delivered him from the paws of the lion and the bear.
My own favourite part is when David approached Goliath and said "You come to me with a sword, with a spear, and with a javelin. But I come to you in the name of the LORD of hosts, the God of the armies of Israel, whom you have defied. (I Samuel 17:45 NKJV).  Woo, wait a minute wasn't David carrying a staff, 5 stones and a sling? How come he does not even mention what he was holding? Instead he says I come in the name of the Lord of hosts; David didn't even consider what was in his hands because he understood the power of God, He is God all by Himself, His right hand and His holy arm gained Him the victory.
Yes to ordinary people and even the seasoned soldiers who were watching it seemed impossible, they were already contemplating being slaves and some of them were probably hiding behind the camp thinking that all was lost. What can a mere boy holding a toy (sling) do to a seasoned warrior who is tall, strong and so fearsome? In David's eyes he was not even half the size of the bears and lions which God had helped him tear apart. His attitude was as if God had helped him in the jaws of lions then surely he will come through for him in the face of Goliath.
I am reminded of the woman with the issue of blood in Matthew 9:20-22 who when she heard about Jesus decided in advance that if she could only touch the hem of his garment then she would be made whole. The decision was made well in advance before the manifestation of her healing and when she acted on it immediately she was made whole. Jesus said your faith made you whole. This woman saw the answer to her problem before it manifested and had the boldness and courage to act on it. If she hadn't acted she wouldn't have received her healing.
Most people think that trouble should naturally just not appear to them just because they are born again. However Jesus himself tells us that in this world you will have trouble, but fear not, for I have overcome the world. The question is do you have faith to see what God has already put in place for you and when you see clearly his intention do you have the attitude to go after God's promises? – or are you going to cower on the side lines scared of the threats of the devil, forgetting that your God is more powerful than anything that can come against you?
Yes even you can slay all the Goliaths in your life if only you can see clearly what God says about the situation and take a step of faith with an attitude to win, for He will surely fight for you.
You might be facing a giant today in your health, work matters, families not working well, poverty and lack etc. and it seems like you are in the jaws of defeat, feeling abandoned and forsaken. Know that God is ready to fight for you. Dare to believe that by His stripes you were healed. God himself will stand up and fight. Have the courage to dare to go again. Whatever situation you are in dare to dream bigger and do the best you can – God who desires to do far much more than we can ever think, ask or imagine will finish off the rest.
---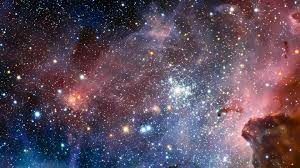 SPACE CONTINUED
Written by Michael Blackburn
In our last article we concentrated on the earth and the known planets including the search for a ninth planet which astronomers predict is somewhere out beyond Neptune but, as yet, haven't been able to find. Perhaps before this series of space articles is finished I may be able to report the discovery. 'Watch this SPACE!'Before we move further out into space it should be interesting to discuss gravity. Gravity is what keeps us firmly on the ground. We can try and escape by jumping but gravity will always pull us back down. To escape the pull of earth's gravity we need to travel at a speed of 11Km/s (11 kilometres per second). Anything less than that and earth's gravity will pull us back.But how much is known about gravity and how it works? It is amazing to think that although the moon is on average 250,000 miles away its gravity affects the earth's tides. So there is a constant force coming from the moon without which the earth would have no tides. We take it for granted without realising the implications. But gravity stretches also out throughout the whole universe.I was hoping that by now Dean would have managed to obtain the services of Stephen Hawking or Brian Cox but sadly that hasn't happened! We are moving into an area of 'Dark Matter' and 'Dark Energy'. What we have to understand is that when the mathematical astronomers such as Stephen Hawking go back to the 'Big Bang' they are able to predict the exact rate of expansion of the Universe. But they have discovered that their calculations do not match what is happening. They know this by looking back in time. How do they know that?  Because nothing can be faster than the speed of light so as they look back through telescopes they are seeing things as they were many millions of years ago. So something is slowing down the Universe. They say that the expansion of the Universe is being slowed down by the gravitational action of two components – one known as 'Dark Matter' and one known a 'Dark Energy'.'Dark Matter' must mean that the total of everything we can actually see in the Universe is not all that there is. The hidden matter is holding back the expansion of the Universe. That makes sense – throwing a heavy weight is more difficult than throwing a lighter one. This 'dark matter' is presumably spread throughout the whole Universe. But where do you start looking for something you can't see?'Dark Energy' is more difficult to understand and is where we need Brian Cox to help us. As he is not available let me have a go at understanding it.
The earth is spinning on its axis once in 24 hours. It goes around the sun once in 365 days. Our solar system makes one rotation of our Galaxy once every 250,000 million years. All this adds up to the fact that we are moving through space at 2.7million miles per hour! Unbelievable but true. Remind yourself of that when you are sitting quietly. For all the above factors to come together there has to be a massive amount of energy. But where is it coming from? Is this the 'Dark Energy' which the scientists are looking for? This is my naive answer but anyone with a different explanation please write to Dean so we can all share it.
The scientists are hoping that 'Dark Energy' will become clearer when the CERN Hadron Collider gets to work as it did when it discovered the Higgs Boson in 2012. What was Higgs Boson? My feeble understanding is that there was a missing link in how atoms, which make up everything, even us, were held together. The Higgs Boson was the answer. Again if anyone reading this has a better explanation please write to Dean with your version.
Moving back to Gravity we must understand that all the galaxies, of which ours is only one of many millions, are tied together by the force of gravity which permeates the whole vast Universe. At this moment our closest neighbouring galaxy, Andromeda, is travelling towards us at speed of 110 Ks per second but do not panic because such is the vastness of space that it will take 3.75 Billion Years to reach us. But when it does what a sight it will be! The question arises as to how Andromeda is coming towards us when the Universe is expanding. The answer is that Andromeda is part of the 'Local Group' of Galaxies which, over billions of years, interact with each other whilst, as a group, still remain part of the expansion.
​
That's all for now. In the next issue we will move on to 'Mission to Mars'. Stay with us or jump off before we 'take off'!
​
Ref Wikipedia
---
MY HOPES FOR THE SUMMER
Written by Brenda Condoll
Now that summer is here it is a time for festivals, garden parties, walking, hiking, going horse racing and also going on holidays to places near and far.
I am hoping to go to Scarborough to see the sights, and to see new and old places. Also I will be going to Chester Zoo to view all the interesting animals and the lovely surrounding countryside – it's been said that Chester is the gateway to North Wales. It really is lovely to visit Chester Zoo.
Scarborough, by contrast is by the sea and when you visit there, you can experience lovely scenery, people walking on the beach and taking a dip in the sea. Other people can be seen eating fish and chips, ice cream and sweet rocks. I do hope the sun is shining when I visit such places this summer!
---
A CHAT WITH AN INTERFAITH MINISTER
Can you tell me a bit about yourself please? My name is Leah Findlay and I am an Interfaith Minister and Spiritual Counsellor. I perform ceremonies for rites of passage, coming of age ceremonies and more conventional ceremonies like baby-namings, weddings and funerals.
Where do you do these ceremonies? Anywhere. We have a yurt and sometimes use this (a yurt is a round wooden structure covered with canvas, with a door).
What does it mean to be an Interfaith Minister? It means that you have your path or spiritual understandings; you also understand that there are many ways to God/ Love /Truth and that we are connected as one. It's about working with unity rather than acting in a divisive way.
Do you belong to a church? No and our organisation has no physical structure. There is also no creed or dogma that you have to sign up to.
Can you give me an example of the kind of people who come to you? Yes. For example a catholic who has been married before may be looking for a spiritual blessing or maybe there's a Hindu and Sikh who want to marry each other, but are unable to do so as their own temples will not sanction such a marriage. We have many families, couples and individuals who have a sense of the spiritual but may not follow a traditional religious path. When planning weddings, funerals, baby namings and other rites-of-passage we honour each person's way of connecting to the divine and weave the ceremony around their sacred understandings.
Has what you do any legality? In Scotland you can do the legal side of a wedding but currently not in England – this may change in the future but at the moment, it's just a blessing in England.
How did you come to be an Interfaith Minister? I was ordained when I was twenty-one. It's all about having your own beliefs /understandings and unique ways of connecting and deepening them and also being open to the idea that there are many paths up the same mountain – many ways to truth, love, God.
What did becoming ordained involve? It's a two year course that is currently run in London, but my husband Peter trained in Manchester. It's really an inner journey – healing the places where we have become disconnected to our own source. When we learn about creating a baby naming ceremony we explore things like our own birth and what we are birthing in ourselves at this time. Any ceremony we create has no set structure and input comes from couples and families and may involve things like writing vows on paper boats and floating them downstream. It is really about deepening our connection to the Divine and expressing this connection in the way we are each called individually to do – this may take the form of traditional Ministry such as ceremonies and spiritual counselling or we could choose to take it into our everyday work such as nursing, teaching or parenting.
What is the Divine to you? For me, the Divine is a feeling of oneness and interconnectedness – every person, tree and insect is interconnected and its very essence is love.
Does your faith influence your diet? Remember there is no creed or dogma. Peter eats meat and I'm a vegetarian – it's really about tuning into what feels right to you.
How are you hoping that your work will evolve in the future – is it your main work? My main work is as a child-minder in our Mongolian-style yurt and I try to bring a sense of interconnectedness to the children, and we do things like thank the Earth and the Sun for the food we eat.
Does your path include Paganism too? Yes, but I also have connections with the Quakers and Sufis. My husband Peter is more connected to Paganism while I am more connected to Christian Mysticism – that's to say the work of the heart.
Do you believe Jesus is the son of God? My understanding of Christ's teachings is that he came to show us who we are.
Do you think he was just a moral teacher? A teacher in the sense of teaching through his presence – showing the light that is in all of us – he shone very brightly to remind us of this.
What do you think happens to us when we die? I have a sense that this isn't the first time we have lived though as an Interfaith Minister you don't have to believe this. This is just my personal belief. I sense that we return to where we have come from.
Do you believe in ghosts? I believe there can be the energies of those who have lived before and are still with us – these energies may be supportive or may need our support to be released.
Is there anything you want to add? Just that we hope our yurt will be a mantel for people (it's near Hebden Bridge) and will be used as a sacred space. We do regular interfaith gatherings on the second Sunday of each month at 4.30pm followed by a shared meal with the hope that people will have a space where they don't feel alone on their spiritual journey, but be connected with each other's hearts.
Do you have sermons? Usually we pick a theme say, forgiveness, love or joy and explore it. Often we begin with a reading from one of the traditions, we may do a song or chant, we offer a space for sharing and a story on the theme – each service is unique and evolves through the energies of the group and the seasons of the year.
How can people contact you? At: leahfindlay@rocketmail.com
Or on: 07825168742
---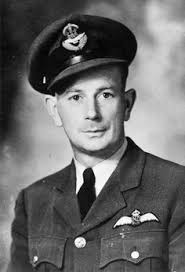 LIEUTENANT COLONEL MARCUS ERVINE-ANDREWS. VC
Written by Michael Blackburn
Marcus Irvine-Andrews was a Roman Catholic from County Cavan in Eire who was a scholar at Stoneyhurst College in Lancashire. I first met him when he gave a talk in the Victoria Hall Halifax along with and supporting Group Leonard Cheshire VC, OM, DSO and DFC. He was helping Leonard by managing one of his Cheshire Homes at New Wardour Castle in Wiltshire. I visited him and stayed in his cottage in the grounds of the Castle.
The citation of his award of the VC stated:-
'Lieutenant (acting Captain) (now Captain) Harald Marcus Ervine-Andrews, The East Lancashire Regiment.
For the most conspicuous gallantry on active service on the night of 31st May/1st June, 1940. Captain Ervine-Andrews took over about a thousand yards of the defence in front of Dunkirk, his line extending along the Canal de Bergues, and the enemy attacked at dawn. For over ten hours, notwithstanding intense artillery, mortar and machine-gun fire, and in the face of vastly superior enemy forces, Captain Ervine-Andrews and his company held the position.
The enemy, however succeeded in crossing the canal on both flanks; and, owing to superior enemy forces, a company of Captain Ervine-Andrews' own battalion, which was dispatched  to protect his flanks, was unable to gain contact with him. There being the danger of one of his platoons being driven in, he called for volunteers to fill the gap, and then, going forward, climbed onto the top of a straw-roofed barn, from which he engaged the enemy with rifle and light automatic fire, though at the time, the enemy were sending mortar bombs and armour piercing bullets through the roof.
Captain Ervine-Andrews personally accounted for seventeen of the enemy with his rifle and for many more with a Bren gun. Later. When the house which he held had been shattered by the enemy fire and set alight, and all his ammunition had been expended, he sent back his wounded in the remaining carrier. Captain Ervine-Andrews then collected the remaining eight men of his company from his forward position, and, when almost completely surrounded, led them back to the cover afforded by the company in the rear, swimming or wading up to the chin in water for over a mile; having brought all that remained of his company safely back, he once again took up position.
Throughout this action, Captain Ervine-Andrews displayed courage, tenacity, and devotion to duty, worthy of the highest traditions of the British Army, and his magnificent example imbued his own troops with the dauntless fighting spirit which he himself displayed'.
One is speechless in admiration at such gallantry. On top of the above Marcus told me that after a mortar hit the barn he was knocked to the ground and semi-conscious. He told me that when his head cleared he found himself surrounded by three of the enemy. He told me: "I can shoot three men in a second" which he did and, along with his company, made their retreat.
Having met Leonard Cheshire at VC meetings he took on the task of managing the Cheshire Home at New Wardour Castle.
Later he attempted to return home to his Irish native County Cavan, but was driven out by the IRA who would have disapproved at him having fought for the British Army. He then settled in Cornwall. He was the first VC of the 2nd World Ward and the last Irishman to be awarded the VC.  His memorial is at his school at Stoneyhurst College, Clitheroe, Lancashire. His VC is in Blackburn City Museum.
He died on the 30th March 1995 at the age of 83.
​
Ref Wikipedia
---
WHY I GO TO CHURCH
Written by Brenda Condoll
I go to church and have done so since being a small child when my grandma took me there every Sunday morning – and to Sunday school in the afternoon.
When one goes to church, you feel blessed and you get healing from this blessing that is bestowed about you. I feel every time I go to church I gain the strength I need to carry on and not give up.
I was baptised and confirmed at St Paul's Anglican Church in Charlestown, Nevis, British West Indies.
When I was nearly sixteen, I travelled to England and immediately found a church where I could worship every Sunday. I really look forward to these holy days and feel blessed for which I thank God.
---
MORE RECIPES FROM JUNE CHARLTON
​
Dundee Cake
Ingredients:                  6 oz margarine
6 oz  caster sugar
Grated rind of 1 orange
4 standard eggs
7 oz plain flour sieved with ½ teaspoon baking powder
1 teaspoon mixed spice
6 oz of currants
6 oz sultanas
6 oz raisins
2 oz glazed cherries washed and halved
3 oz mixed cut peel
Decoration:  2 oz blanched almondsMethod:                        Place all the ingredients except the whole almonds in a mixing bowl, beat
thoroughly with a wooden spoon until well-mixed (3 – 4 mins). Place in a
greased and lined 7 inch (18 cm) round cake tin and smooth the
surface with the back of a hot metal spoon. Arrange the whole almonds.
Bake in the middle of a slow oven (300 F/150C/gas
mark 2) for 3-4 hours. Test with a skewer before removing from the oven.
Turn out, remove paper and cool on a wire tray. Note if wrapped and kept in
an airtight container, the cake will keep well for several weeks.
---
Oven Bottom Cakes
Ingredients:                   2 lbs. of strong flour
1 ½ oz of yeast
6 oz of lard
2 teaspoons of salt
1 teaspoon of sugar
Half pint of warm milk
Half pint of warm water
Method:                         Dissolve the yeast in half the water and pour it into the centre of the flour to
form a sponge. Sprinkle a little of the flour over the top, and when the yeast
breaks through add the rest of the liquid and the sugar and salt. Knead well
then leave in a warm place to rise. Knock back the dough and divide it into
twelve or fourteen pieces and roll them gently to make flat cakes. Leave
them to rise on a baking sheet and then bake in the bottom of a hot oven
for twenty minutes.
---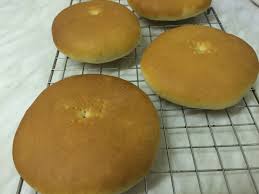 Plain Teacakes
Ingredients:                    1 lb of flour
2 oz of lard
½ oz of fresh yeast
1 teaspoon of sugar
2 teaspoons of salt
½ pint of water
Method:                           Rub the lard into the flour. Warm the milk and water, add the sugar and
crumble in the yeast. When dissolved stir the liquid into the flour and add
the salt and mix thoroughly. Leave in a cool place overnight. If the teacakes
are required the same day use an ounce of yeast and leave it to rise
overnight, in a warm place. Divide dough into 10 pieces and shape them
into rounds, flatten with the hands and brush the tops with milk. Put on
baking sheets and leave in a warm place for 15 minutes to rise. Dust the
tops with flour, press a floured finger into the centre of each one and bake
for 15 or 20 minutes in a hot oven.
---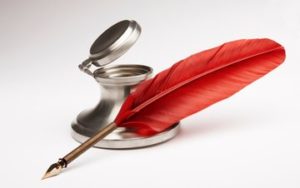 LETTERS PAGEDear Editor
Has anyone else noticed how chocolate bars have got smaller since American companies took over certain sweet factories in Britain? Some people seem to think the Americans are our friends, when in reality they are only our friends when it suits them.
Jay Fox, Sunderland
Dear Editor
I am writing in to say that I am very pleased that Britain is on its way out of the European Union – we have been subsidising Eastern Bloc countries for far too long and our immigration does need curbing drastically. Immigrants only go to another country to get what they can out of it – not to give what they can give to it.
S Dawson, Whitehaven
Dear Editor
I am very disappointed with Britain's decision to leave the EU as this will leave it isolated with only a small voice in international matters. People will regret this decision and it will eventually bring about the end of the EU.
Claude Lafarge, Paris
Dear Editor
Whilst I am happy that Britain is going to regain control of its own affairs, I was saddened that Prime Minister David Cameron had to run to Elizabeth Windsor (our unelected Head of State) to tell her he was going to resign. I like the idea of Britain being its own master again but I do hope we don't see more domination by right-wing parties as must protect our citizens' rights.
Peter Green, Bolton
Dear Editor
I live in Halifax, West Yorkshire and have just been told that our main post office is to close and be relocated as four desks at the back of the W.H. Smith store in town. Privatisation of the Post Office  is yet again the wrong decision for most people – but not for the fat cats who always win.
Sandy Brown, Halifax
Dear Editor
I think immigration is undoubtedly a good thing for a country as it introduces new blood and new ideas – as well as breaking down abhorrent racism. However, I am of the opinion that Britain has been flooded by Eastern European migrants and now that we have left the EU, we can instead concentrate on helping refugees and genuine Political Asylum Seekers. We are only a small island when said and done.
Margaret Johnson, London
Dear Editor
I think it is good that more and more people are following a vegetarian diet. Meat is very difficult for the human body to digest, and it is sad that animals have to be murdered when other alternative sources of food exist. Interestingly, because petrified animals produce lots of adrenalin before they are killed, this is then consumed by humans when they eat meat, and often causes them to become aggressive.
Tony Hill, Leeds
Dear Editor
I am a recently divorced man and feel like I have been completely fleeced by my ex-wife. Admittedly, provision had to be made for our two children, but the settlement is very biased in my wife's favour. Is there any point a man, in this day and age, taking a chance on marriage when it often results in divorce and him losing out in every way?
Anonymous
Dear Editor
As a modern woman, I must say that I feel obliged to try and look my best at all times. I spend a fortune on make-up etc. but I really wish I had the courage to rebel and stop wearing it – does any other woman feel the same way?
​
F Stone, London
---
JASPER THE DONKEY
Written by Michael Blackburn
When I was connected with the Halifax Samaritans we used to take part in the annual Halifax Gala. So year after year we had to come up with a theme. One year I suggested 'The Good Samaritan'. Which meant getting a donkey, having an injured person on the donkey, and it being led by the Good Samaritan. After some searching we came across a donkey, Jasper, complete with saddle. The owner was happy to co-operate. My brother-in-law had an Arab costume which fitted me perfectly so I was The Good Samaritan (typecast of course!).
On the appointed day Jasper's owner delivered him to Mulcture Hall Road for the start of the procession. With 'injured' person safely on Jasper we were ready for the off. The owner said he would meet up with us at Manor Heath but just before he left he said "Jasper's a bit randy so keep an eye on him". He'd only been left ten seconds when two police horses came into view about a hundred yards away. Jasper saw them and started heehawing and bucking so much that we had to dismount the 'injured' person before they became permanently injured. We dispatched one of our volunteers to ask the police horse men "Move on please you are disturbing our donkey". They looked bemused but complied with our request.
So the procession started and all went well but as we went up Crown Street I heard a child say "Look Mummy; Jesus and Mary". Nice but not we were trying to portray!
Eventually we came to Commercial Street and the Post Office. At the Post Office there is Zebra Crossing which as we all know is as a safe place to cross the road. To Jasper it was like one of Stephen Hawking's Black Holes in Space. He put all four anchors down and refused to budge. In the meantime the procession ahead of us was disappearing into the distance whilst the procession behind us was falling on top of each other with nowhere to go. Eventually to the great delight of the crowd I had to physically drag Jasper over the crossing. If the RSPCA had been watching I would have been in serious trouble.  What I realised was that a bit further on by the Victoria Hall was another crossing, I thought I could fool Jasper by taking it at a run but it didn't work and once again the huge crowd enjoyed my indignity at having to haul Jasper across.
After having overcome those hazards I breathed a sigh of relieve. Nothing to worry about now. I was wrong! I hadn't taken into account Albert Park where Prince Albert is seated on a Horse. When we got there once again Jasper started his heehawing and bucking. That fact that Albert and the Horse are raised on a high plinth made no difference. The impossibility of what he had in mind did not reduce his randy wishes.
Having overcome that hazard once again I thought that all problems were over. I was wrong again! When we arrived at Manor Heath it was to find the two police horses standing a few feet apart at the entrance to the park. Thinking quickly I got two volunteers to walk either side of Jasper's head so he would be blocked from seeing horses. Thankfully it worked and Jasper spent the rest of the afternoon giving pony rides.
​
I will always have fond memories of Jasper the Randy Donkey!
---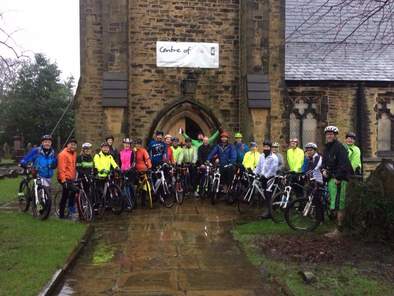 AN INTERVIEW WITH ANGELA KEENAN 
What is the project you're involved with called? The charity is called Happy Days and I'm the manager of a project called Happy Cycles which includes a bike shop and café on Wharf Street, Sowerby Bridge.
How is it funded? We were fortunate enough to receive £50,000 funding from ITV and also some money from Yorkshire Bank.
I hear you have started a Bike Library – what is this? Yes, you can now borrow a bike from here – it's aimed at families and we have seventeen adult bikes, five children's bikes and tag-alongs (a wheel with a bar that attaches to your bike). However, it's going to be hard to get the right range of children's sizes.
How did the Happy Cycles' project come about? Well Happy Days Charity is a Christian organisation and began when the CEO Dave (who at that time had a marketing company) started the Food Drop-In Centre in Ebenezer church in Halifax, five or six years ago. But he soon realised that the people who attended the drop-in needed more than just food, so he set up the Night Shelter in Halifax which runs from January to March – which are the coldest months in England.
How long has Happy Cycles been based in Sowerby Bridge? Since February, 2016. Dave had decided to set up the project after selling his successful marketing company. The project evolved through our graphic designer Rowan restoring people's bikes.
But do you sell bikes here? Yes, most are second-hand but we do sell some new bikes – all have been donated.
Have you anything you'd like to add? Yes, going back to Dave, when he sold his company, he bought two houses in Pellon in Halifax which he made into four bed-sits for homeless people from the night shelter.
Are the houses funded through Housing Benefit? Mainly yes, though we pay for a support worker called Janet – people who have been homeless need all kinds of support.
What would you say to people who say cycling on British roads is now too dangerous? We do Bike-Ability courses which are free and teach you how to ride safely on the roads – these courses are run every month during the summer months. We also run free maintenance courses.
Do you have to be a Christian to be involved with the project? No, but it's true to say that the people from the two houses are encouraged to follow a Christian path and get involved with the project in order to develop life skills and confidence.
If you make any profit what happens to it? If there is any it goes towards the upkeep of the two houses, paying for Janet the support worker and maybe taking the guys on trips.
Are they mainly local people who live in the houses? Yes, mainly homeless local people.
​
If people are interested in your project, how can they contact you? By telephoning: 01422 433880 or 07525375414. Website: www.happydaysuk.org
---
Editor's Last word: Thank you for reading this magazine but remember it always needs new blood to keep it evolving.
If you want to submit anything to us, please send it to: deancharltonmag@gmail.com
Also if you are interested in advertising with us then please head over to our advertising page for further details
Dean