FROM THE HORSE'S MOUTH

 – OCTOBER 2016 EDITION


​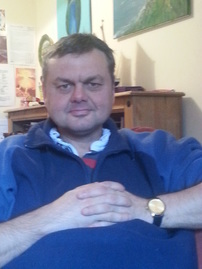 Hello. Another edition has come around! I hope you are okay and enjoying your life.
I am aware that this edition has a stronger than usual Christian flavour but this is not by design – I can only publish what people send me and do welcome contributions from all faiths and philosophies. If you would like to send us something to be considered for publication, please send it to:  deancharltonmag@gmail.com   Thanks, Dean
---
NEW WRITING COMPETITIONS!
(Until 31st December 2016 Midnight)
Submit Entries to: deancharltonmag@gmail.com
Short Story Comp (up to 5,000 words and in English) – prizes £100, £50 and £25
Poetry Comp (in English) – £50 prize (sponsored by Brenda Condoll)
All winning entries will appear in the magazine.
---
MY NOT VERY SERIOUS STARS
Scorpio 24 Oct – 22 Nov
It is a good time to shave off your facial hair and make a symbolic new start. Your recent run of bad luck is about to come to an end and job prospects will suddenly improve. Try to swear less as it doesn't impress anyone.
Sagittarius 23 Nov – 21 Dec
A relative may be sent to jail this month but it is all that he deserves. Someone will leave you money in a will and pleasantly surprise you. A friend will show her true colours so it is time you distanced yourself from her.
Capricorn 22 Dec – 20 Jan
A person with very few possessions will impress you with their constant state of happiness and general well-being. A part-time course will interest you and may be worth investing time in. Think about becoming a vegetarian.
Aquarius 21 Jan – 19 Feb
This month you ought to make plans for an alternative career path. A new person in your life will be like a breath of fresh air and make you take a long hard look at your life. It is a good time to change your toothpaste and start using mouthwash.
Pisces 20 Feb – 20 Mar
Maybe a good time to pick up the musical instrument you discarded years ago and give it another go. You will meet an old flame at the supermarket who will set your heart pounding. Try to be less of a perfectionist as you will get more done.
Aries 21 Mar – 20 Apr
Medication you have been prescribed may make you drowsy but persevere with it. An Imam may give you some good advice and suggest you take another life path to the one you are following now. It is a very good time to visit a chiropodist.
Taurus 21 Apr – 21 May
A new parent may really need your help at the moment. You will have lots of negative thoughts concerning your birthday but these will soon evaporate once the celebrations get under way. A foreign woman may start to influence the way that you think.
Gemini 22 May – 21 Jun
A well-dressed beggar may give you food for thought. A train journey could change your life for the better. An obese person will show you how beautiful they are and how they have many endearing qualities.
Cancer 22 Jun – 23 Jul
The self-doubt you have been experiencing recently will begin to subside and your self-confidence will begin to return. Someone who has been round the block many times may show interest in you but do you really want to be another notch on their bedpost?
Leo 24 Jul – 23 Aug
An accident in the home will focus your mind. Spending time with a loved one will make you think life is not so bad after all. It is a good time to treat yourself to a new pair of shoes and some new trousers. You are not as boring as you think so get out more!
Virgo 24 Aug – 23 Sep
An unexpected, shared experience will bring you closer to your partner. Something you have been working towards will bear fruit but not as much as you had hoped for. The birth of a relative's baby brings you great joy.  Be two-faced if it means you keep your job.
Libra 24 Sep – 23 Oct
​
A trip to a clairvoyant could prove useful if only as a catalyst. Stop thinking about death so much and concentrate on the life you have here and now. A man with an expensive umbrella will shower you with gifts. Think about planting some trees.
---
Advertising with #FTHM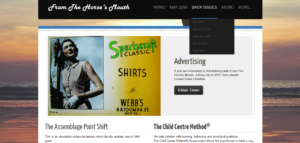 For a limited time we are offering FREE Advertising space to help build up the magazine ready for it to hopefully become a commercial publication sometime in 2017.
Please get in touch: deancharltonmag@gmail.com and see this page for current advertisers www.deancharltonmag.com/advertising
---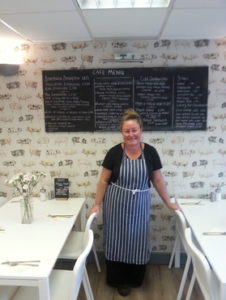 INTERVIEW WITH BUSINESSWOMAN LOUISE WOODIVES
Louise, can you say a bit about yourself? I'm forty-six. I'm married to Victor and have three children – Mathew twenty-two, Charlotte fifteen and Sebastian who is thirteen. I was born and bred in Halifax and have always lived in Halifax. I originally come from the Holmfield area of Halifax and now live in Skircoat Green.
How long have you had your café and how did you come to own it? I bought it on the 25th of this year and it came about because I was a regular customer when the then owners asked me if I was interested in buying the café. I went home and had a talk with my husband and we decided we would like to buy it – the rest is history!
Did you always want to have your own business? Yes, I've always wanted to work for myself but was not quite sure in what line. I have however, always been interested in catering and this opportunity just came out of the blue.
How did you know you would be able to make a success of this business when you had never run a café before? Well I've done various jobs in the past and thought sometimes you just have to take a risk and see if it works out. I like a challenge!
Did you have any training before you took over the café? Yes, I worked as an employee with the existing team from last September to January. I worked four days a week and learnt the ropes and got to know all the different routines, the suppliers etc.
What is good about working for yourself? Simply, I think you get out what you put in – hopefully. You're not answerable to anyone and it's your own efforts that hopefully make the business a success.
Is there enough demand for what you do in this area? I think so yes. We do well with takeout sandwiches, and cooked breakfasts in the café. At lunchtime we have a hot roast, jacket potatoes, salad, homemade soups and other things on our extensive menu. So we have a lot to offer!
Is it true that once a month you have a special opening? Yes, because the business was previously a bistro in the evening, when we took over the café, we had a lot of enquiries concerning the bistro part and were frequently asked if we were going to continue with this side of the business. However, because it was a new business we decided to take it easy and just open one evening a month and have a themed event – this takes place the first Saturday of every month and we have so far done Indian, Spanish and Caribbean food. But because we're coming to a busy period before Christmas, the last evening this year will be on the first Saturday in October – a Mexican evening. We are then going to start again in the New Year.
What's the café phone number if people want to get in touch with you? 01422 251377.
What kind of work have you done in the past? The last job I did was working with four adults in a shared home who had learning difficulties. The House was in Brighouse and occasionally I had to sleep over. I did that job for about eighteen months but before that I worked at Ravenscliffe High School which caters for students with special needs who are between eleven and nineteen. I initially started off as a lunchtime supervisor but progressed to being a Support Worker working in the sixth form for about five years. In all, I worked at Ravenscliffe over a ten year period and thoroughly enjoyed it.
What was the first job you ever did? When I left Huddersfield Technical College (having studied catering and hotel management) I worked front of house at what was then the Hilton National and is now Cedar Court at Ainley Top. So I've nearly gone a full circle!
What are your hopes for the business in the future? Just to keep a good customer base and carry on enjoying what I'm doing whilst obviously making a success of it.
​
Have you any hopes or dreams for yourself in the future? I just want to make the business a success and possibly have a second business.
---
FUN QUIZ FROM THE HORSE'S MOUTH
Questions:
    Who is the current England men's football captain?
    Who played John 'Boy' Walton in the Waltons?
    Is Donald Trump a Democrat or Republican?
    What is the capital of Peru?
    Where was Keith Lemon born?
    Which constituency did Tony Blair serve?
    Who is the only other musician to be credited on a Beatles album?
    Who plays the character Sean Tully in the soap Coronation Street?
    What is the currency of St. Kitts and Nevis?
    What colour medal did Jessica Ennis-Hill win at the Rio Olympics?
    Who owns The Spectator magazine?
    Which set of islands is Tenerife part of?
    How old is Queen Elizabeth 11?
    Who was the first man to walk on the moon?
    What is the word for today in French?
    What was Tony Benn originally known as?
    Who makes the Lupo model of car?
    Where was Barcelona forward Lionel Messi born?
    Which programme is Eamonn Holmes to leave after eleven years?
    What is the capital of Malta?
Answers:
(1) Wayne Rooney (2) Richard Thomas (3) Republican (4) Lima (5) Leeds
(6) Sedgefield (7) Billy Preston (8) Antony Cotton (9) Eastern Caribbean Dollar (10) Silver (11) Barclay Brothers (12) The Canary Islands (13) 90 (14) Neil Armstrong (15) aujourd'hui (16) Anthony Wedgwood Benn (17) V W (18) Argentina (19) Sky News Sunrise (20) Valletta
---
A BIT ABOUT GERALD GROSVENOR, 6TH DUKE OF WESTMINSTER
Written by Andy Shaw
Gerald Grosvenor was born on the 22nd of December 1951, in Omagh, Northern Ireland and when he died (according to the Sunday Times Rich List 2016) he was worth £9.35 billion – which raises the obvious question of whether he could have done more with his money to help the poorer members of society.
Let's take a closer look at some of his life: Gerald Grosvenor was many things including businessman, British landowner, Territorial Army general and peer.
He left Harrow Public School with only two 'o' levels in English and History but this did not prevent him from becoming arguably, disgustingly rich.
It was in 1979 that he inherited Grosvenor Estates and the dukedom and became the richest property developer in the UK and one of the country's largest landowners. Ironically, after his death in 2016 the Grosvenor family are allegedly to pay only a miniscule amount of inheritance tax on his fortune.
But in fairness, there was a lot more to Gerald Grosvenor than just being an extremely wealthy man – he was President of various charitable organisations like Scope, BLESMA, Yeomanry Benevolent fund and was even the Vice-President of the Royal British Legion.
Interestingly, in 2011, he purchased the estate at Stanford Hall, Nottinghamshire to enable a Defence and National Rehabilitation Centre (DNRC) to be built to provide help for military casualties and it is hoped that this will be completed by 2018.
Although he did very poorly at Harrow (some say due to his inability to fit in there), he went on to be awarded several honorary degrees and fellowships and was Pro-Chancellor of Keale University from 1986-1993, Chancellor of Manchester Metropolitan University 1992-2002 and Chancellor of Chester University in 1975 until his death.
Unfortunately, he is said to have suffered a nervous breakdown in 1998 due to extreme business pressures.
On a brighter note, Gerald Grosvenor married Natalie Ayestra Phillips and they had four children.
So we have looked at a number of facts about a man allegedly worth £9.35 billion – do you think he could really have done more to help the poor and readdress the imbalance of power and wealth in our society?
​
Ref. Wikipedia
---
LETTERS PAGE
Thank you so much, dearest Dean.
And I'm so very happy that you and Brenda got to Tenerife and had a wonderful time! This, you both deserve more than any two people I know.
I so admire your goodness, Dean and the amazing things you achieve for the benefit of all. I find your humility, openness and all your ideas – which you go for totally and with great energy and perseverance -completely awe-inspiring.
You really 'walk the talk' .
You are a truly great individual Dean, and I look up to you.
There's no need to reply. I just wanted you to know that you are radiating the light of God of your God-nature – and I think 'He' – your 'Father' must be so proud that you are living as his 'Agent' here in this physical dimension.
All the very best to you and Brenda and I wish you both endless good fortune and many more holidays in sunny places.
Dear Editor
Like a lot of people I think the queen projects herself as a nice old lady – but in my opinion, she is a much more sinister individual who seeks to perpetuate inequality in British society. I also think an elected Head of State would be financially better value for money and a more ethical option.
Naomi Wilton, Macclesfield
Dear Editor
In response to the letter about how women should be more respectful of men, I disagree as many women not only work but run the household, look after the children and care for sick relatives! I think the answer is for women and men to respect each other equally as we are nothing without each other.
Julie Hargreaves, County Durham
Dear Editor
Can I just offer my congratulations to the British Olympic and Para Olympic teams who were outstanding in Rio. I realise most of them are now professional, but even so, their dedication and application is to be admired.
Peter Stoles, Stoke
Dear Editor
Whilst I admire the diversity of you magazine, if it is possible, I would like to see more about world religions other than Christianity.
David Knowles, Cardiff
Dear Editor
As a 'straight' man I am pleased to say that we appear to be witnessing a decline in homophobia. To be honest, I still look twice when I see two women walking down the street holding hands – but I do know it doesn't really matter who loves who.
Terry Mathews, London
Dear Editor
I was pleased to see the British Olympic team do so well in Rio, but I cannot say I was pleased to see a female boxer win a gold medal – for punching another woman in the face! I don't think there is room in sport for legal violence.
Shirley Cotton, Merseyside
Dear Editor
Whilst Usain Bolt is to be congratulated for winning another three gold medals at the Olympics in Rio, I think we should now watch very carefully to see how he uses his fame and prestige to help others, once he has retired. At the moment, he will just be remembered for running fast around a track and appearing on Virgin adverts!
Sarah Betts, Wigan
Dear Editor
Can I just say how much I appreciated the letter, in your magazine, from the recovering alcoholic – such honesty was refreshing and should be applauded. Because alcohol is a legal drug in western society, it is not often given the negative press it merits.
Steve Bowles, Edinburgh
Dear Editor
I am a meat eater. I am tired of being lectured about my apparent unethical eating habits. As an earlier contributor wrote: "we are top of the food chain" and therefore are meant to eat meat. So please leave me alone and you nibble on your lettuce and I will have a steak!
​
Shaun Neal, Manchester
---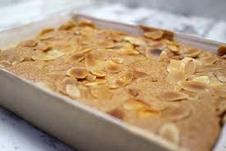 A RECIPE FROM CAKEMAKER AMBER ROBERTS
Gluten Free Almond Tray Bake
Ingredients:                    10" cake tin – greased and lined.
6 eggs
250 g caster sugar
350 g ground almonds
For the icing
200g icing sugar
Jam of your choice
Water
50 g flaked almonds
Method:                           Separate eggs. Whisk whites into peaks using electric whisk.
Whisk caster sugar into yolks for 1 min until paler in colour.
Add whites to the yolks and sugar in three stages and add ground
almonds. Put in prepared tin for 30 mins or until skewer comes out
clean.
(Fan 160 degrees).
                                        To Make Icing
200 g of icing sugar. Lots of jam and drop of water.
Once cake is cooled, ice and scatter almonds on top.
Cut into 8 slices.
---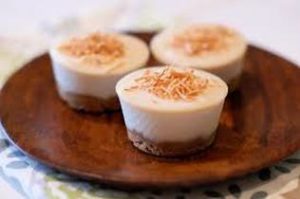 A COUPLE OF RECIPES FROM JUNE CHARLTON
Orange Coconut Creams
Ingredients:                      ½ lb of icing sugar
Pinch of cream of tartar
​                                         Evaporated milk
4 oz of desiccated coconut
1 small orange
Orange colouring
Chocolate drops
Icing sugar to dredge
Method:                           Sieve icing sugar and cream of tartar. Add orange juice, coconut and
sufficient evaporated milk to form a stiff paste. Using icing sugar to
dredge, knead up mixture adding finely grated orange rind to taste.
Roll into small balls and decorate with a chocolate drop. Place in
small paper cases.
---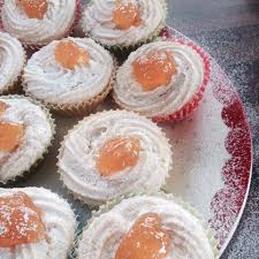 Swiss Swirls
Ingredients:                        8 oz of margarine
3 oz of icing sugar (sieved)
6 oz plain flour sieved with 2 oz of cornflower
Glaced cherries and angelica leaves to decorate.
Method:                              Cream together marg and icing sugar till pale. Beat in flour
and cornflower. Pipe mixture using a star nozzle in the shape of
an S on a lightly greased baking tray about 1" apart. Decorate
each biscuit with a piece of glaced cherry and angelica leaves.
Bake on the middle shelf of a preheated oven 325 degrees for 25
minutes Cool on a wire tray.  Makes 20 -25 biscuits.
---
THE BEATITUDES OF JESUS
Sent in by a Catholic friend
Jesus Christ gave us the Eight Beatitudes in the Sermon on the Mount, recorded for all posterity in the Gospel of Matthew, the first Book of the New Testament of the Bible. Matthew's Gospel was directed to an audience steeped in Hebrew tradition. The Gospel of Matthew stressed that Jesus is the Christ or Messiah foretold in Hebrew Scripture, our Old Testament, and that the Kingdom of the Lord is the Kingdom of God in Heaven. Jesus offers us a way of life that promises eternity in the Kingdom of Heaven.
The teachings of Jesus of Nazareth were simple but unique and innovative at the time of his life on earth. He began teaching about 30 AD during the ruthless Roman occupation of Palestine. At the time there were four major groups in the Jewish religion, the Pharisees, Sadducees, Essenes, and the Zealots, all of whom presented a different viewpoint to the Jewish people. The Pharisees demanded strict observance of the Mosaic Law expressed in the Torah, but also accepted the oral tradition of Jewish customs and rituals. The Sadducees were mainly from the priestly families and strictly accepted the Law of Moses but rejected oral tradition. The Pharisees, unlike the Sadducees, believed in the resurrection of the dead. The monastic Essenes awaited a Messiah that would establish a Kingdom on earth and free the Israelites from oppression. The Zealots were a militant Jewish group who wanted freedom for their homeland, and were centred in Galilee; one of the Twelve Apostles was Simon the Zealot.
The Ten Commandments, given to Moses on Mount Sinai in the Old Testament Book of Exodus, related a series of "Thou shalt not" phrases, evils one must avoid in daily life on earth.
In contrast, the message of Jesus is one of humility, charity, and brotherly love. He teaches transformation of the inner person. Jesus presents the Beatitudes in a positive sense, virtues in life which will ultimately lead to reward. Love becomes the motivation for the Christian. All of the Beatitudes have an eschatological meaning, that is, they promise us salvation – not in this world, but in the next. The Beatitudes initiate one of the main themes of Matthew's Gospel, that the Kingdom so long awaited in the Old Testament is not of this world, but of the next, the Kingdom of Heaven.
While the Beatitudes of Jesus provide a way of life that promises salvation, they also provide peace in the midst of our trials and tribulations on this earth.
An early contemplation on the Beatitudes came from St. Gregory of Nyssa, a mystic who lived in Cappadocia in Asia Minor around 380 AD. He described the Beatitudes this way:
"Beatitude is a possession of all things held to be good,
from which nothing is absent that a good desire may want.
Perhaps the meaning of beatitude may become clearer to us
if it is compared with its opposite.
Now the opposite of beatitude is misery.
Misery means being afflicted unwillingly with painful sufferings."
THE EIGHT BEATITUDES OF JESUS
"Blessed are the poor in spirit,
for theirs is the kingdom of heaven.
Blessed are they who mourn,
for they shall be comforted.
Blessed are the meek,
for they shall inherit the earth.
Blessed are they who hunger and thirst for righteousness,
for they shall be satisfied.
Blessed are the merciful,
for they shall obtain mercy.
Blessed are the pure of heart,
for they shall see God.
Blessed are the peacemakers,
for they shall be called children of God.
Blessed are they who are persecuted for the sake of righteousness,
for theirs is the kingdom of heaven."
Gospel of St. Matthew5:3-10
ON THE BEATITUDES
"Blessed are the poor in spirit, for theirs is the kingdom of heaven."
"Poor in spirit" means to be humble. Humility is the realization that all your gifts and blessings come from the grace of God. To have poverty of spirit means to be completely empty and open to the Word of God. When we are an empty cup and devoid of pride, we are humble. Humility brings an openness and an inner peace, allowing one to do the will of God. He who humbles himself is able to accept our frail nature, to repent, and to allow the grace of God to lead us to conversion.
It is pride, the opposite of humility that brings misery. For pride brings anger and the seeking of revenge, especially when one is offended. If every man were humble and poor in spirit, there would be no war!
"Blessed are they who mourn, for they shall be comforted."
If we are humble and appreciate that all of our gifts and blessings come from God, we grow in love and gratitude for Jesus Christ our Saviour. But this can only produce mourning and regret over our own sins and the sins of this world, for we have hurt the one who has been so good to us. One also mourns for the suffering of others.
St. Gregory describes another reason to mourn: the more one ascends in meditation of Divine Truth, Beauty, and Goodness, and then realize the poverty of human nature; man can only be left in sorrow. When one contemplates that we were made in the image and likeness of God and lived in Paradise, the Garden of Eden, and compare that to our present state after the Fall, one can only mourn our present condition. But the sentence continues that they shall be comforted, by the Comforter, the Holy Spirit, and hopefully one day in the Kingdom of Heaven.
Mourning in this context is called a blessing, because mourning our fallen nature creates in us a desire to improve ourselves and to do what is right!
"Blessed are the meek, for they shall inherit the earth."
St. Gregory of Nyssa taught that the Beatitudes build one upon another. A humble person becomes meek, or becomes gentle and kind, and exhibits a docility of spirit, even in the face of adversity and hardship. A person that is meek is one that exhibits self-control. St. Augustine advises us to be meek in the face of the Lord, and not resist but be obedient to him. Obedience and submission to the will of God are certainly not in vogue these days, but they will bring one peace in this world and in the next.
"Blessed are they who hunger and thirst for righteousness, for they shall be satisfied."
Justice and righteousness in the New Covenant indicate the fulfilment of God's will in your heart and soul. It is not mere observance of the law (Matthew 5:20), but rather an expression of brotherly love (I John 3:10). A continuous desire for justice and moral perfection will lead one to a fulfilment of that desire – a transition and conversion to holiness. This is true for all the virtues – if you hunger and thirst for temperance, you will head towards the goal you have in mind. St. Augustine called the Beatitudes the ideal for every Christian life! In his discourse on the Lord's Sermon on the Mount, he noted the correspondence of the seven gifts of the Holy Spirit and their necessity in fulfilling the Beatitudes. For example, one must have the gift of fortitude so one may be courageous in seeking social justice.
"Blessed are the merciful, for they shall obtain mercy."
Mercy is the loving disposition towards those who suffer distress. Love, compassion, and forgiveness towards one's neighbour will bring peace in your relationships. We say in the Lord's Prayer: Forgive us our trespasses, as we forgive those who trespass against us. As we are merciful to others, so our Heavenly Father will be merciful with us! Jesus reminds us that whatever "you did to the least of my brethren, you did it to me (Matthew 25:31-46)." St. Paul calls for the obedience of faith in the beginning and end of his Letter to the Romans (1:5, 16:25-27). The following are ways to be merciful to your neighbour as well as to be obedient in faith to Christ our Saviour.
The Corporal Works of Mercy
1 Feed the Hungry
2 Give drink to the thirsty
3 Clothe the naked
4 Shelter the homeless
5 Comfort the imprisoned
6 Visit the sick
7 Bury the dead
The Spiritual Works of Mercy ​
1 Admonish sinners
2 Instruct the uninformed
3 Counsel the doubtful
4 Comfort the sorrowful
5 Be patient with those in error
6 Forgive offences
7 Pray for the living and the dead
To be Continued
---
LET'S HAVE A CHAT WITH AN ANGELIC REIKI PRACTIONER
​
Becky, can you say some things about your life? 
I have recently moved back to my home town of Featherstone where I lived until I went to University at 18. After exploring various career paths and facing the challenges of stress in the fast paced modern world I found my spiritual path and passion for energy healing and natural living. It is lovely to be back home and near family who are so important to me. I live with my husband who is my best friend and soul mate; one of our passions is travel and seeing new inspiring places and last year we went to Bali which was magical.I am committed to a natural way of life as I have learnt the benefits of taking a holistic approach to health and wellbeing. I am passionate about nutrition and follow a mainly plant based diet; I believe food heals and nourishing our body is vital for our health and balance on all levels. I love yoga and meditation and practice these daily as a way to relax and stay peaceful, centred and connected to my higher self.I love trying new things and being creative, I recently went to a Vedic Art workshop in Ilkley which was fascinating and I am due to try a Rock Choir taster session in a couple of weeks.
I understand you are a therapist who offers some kind of Reiki – what is Reiki and how does the form you offer differ from standard Reiki? 
I am an Angelic Reiki Practitioner which I absolutely love. I am also attuned to level 1 Usui Reiki which I use for self-healing. I will be receiving my level 2 attunement in a few weeks which will allow me to also offer this form of Reiki to others.Traditional Usui Reiki is a healing technique developed in Japan by Dr Mikao Usui. Reiki translates to 'universal like force energy' which is the divine energy of the Creator/Source/God which flows through all living things. It is a completely safe and gentle healing technique. The therapist attuned to Reiki channels this spiritual energy to the client to bring balance and healing on all levels helping to restore physical and emotional wellbeing. During a treatment the client would lie on the treatment couch fully clothed and the therapist places their hands on various points of the body corresponding to the seven main chakras which are energy points in the body.Angelic Reiki draws on traditional forms of Reiki and uses similar hand positions but with a main focus on the heart and solar plexus chakras. An attunement to Angelic Reiki forms a connection to the Angelic Dimensions so the practitioner is working with the energy of Angelic Beings and Ascended Masters. During a treatment the practitioner is a bridge for the angelic healing energy to pass to the client.
Who first developed this form of Reiki? 
The system was channelled through a man called Kevin Core during 2002-2003. For anyone interested in reading more about this I would recommend checking out 
www.angelicreikimagic.com
 or 
www.angelic-reiki.org
Where did you train to learn about Angelic Reiki and how long have you been qualified to offer it? 
I went to a Level 1 & 2 workshop taught by two lovely Angelic Reiki Master Teachers, Neil and Zena Hammond. The course was run over a weekend and held at the Holistic Wellbeing in Shepley. I qualified in September 2015 and have been offering treatments ever since. I am booked in for the Level 3 & 4 Workshop with Neil and Zena in November this year which I am really excited about.
Who mainly comes to you for treatment and why do they come? 
A variety of people come for a number of reasons, but the common thing is they are at a point where they feel ready to make a positive change in their holistic health and wellbeing. I have had clients who are dealing with difficult emotions from grief or who are feeling out of balance from various sources of stress in life. The beauty of Reiki is that it is completely suitable for everyone and the client will receive exactly what healing they need at that time. I offer a relaxed and compassionate space for people to talk from their heart and focus on restoring their natural state of balance, peace and joy.I am also soon to become a volunteer at the Pontefract Hospice so I will fortunately be able to offer healing to those receiving end of life care. It will be so rewarding for me to offer my help to bring others a sense of peace during an extremely challenging and sensitive time.
What other areas of work are you involved in? 
I am in the process of writing my first book which I'm really excited about. I never thought I would write a book but it is surprising what creative inspirations come to you when you focus on your holistic health, returning to your natural state of peace and connecting to your higher self. I have now learnt not to limit myself and am open to all new possibilities that life has to offer. My book will share wisdom gained from my own journey from suffering with stress and anxiety to finding peace of mind and freedom. I hope to inspire other people to follow their heart and be true to themselves to find their peace and happiness.
I also write a blog talking about various aspects of spirituality and holistic health and wellbeing. For anyone who would like to read my work, my site is www.naturalheartblog.wordpress.com
I also write poetry, some of which are currently in the process of being designed for print, which I plan to sell online and at Mind, Body and Spirit shows and Wedding Fairs.
What do you hope to do in the future on a professional level? I will continue to follow my passions and interests and see where the universe takes me.
My dream and intention is to attend the final Angel Intuitive workshop taught by Doreen Virtue in Sydney next year which will expand and enhance my work with Angels and Healing in general. I love her work and have so much admiration for her and what she does.
I have a strong connection to 'The Conversations with God' (CwG) books written by Neale Donald Walsch and was fortunate enough to attend one of his retreats in Oregon earlier this year. My intention is to create a CwG Study Group in my local community to gather with other CwG readers to discuss and share around the messages within the book and support spiritual awareness and growth. If any readers feel this is something they would like to be involved with please let me know.
What are your hopes for the future on a personal level? On a personal level I would love to start a family and do lots more travelling around the world! But I believe the most important thing is to live in the moment and appreciate life just as it is. I count my blessings every day and know that everything works out exactly as it's meant to.
How can people connect with you? It would be lovely to hear from anyone who would like to find out more about what I do, book a treatment, share any thoughts or just say hello. I am available through my website, social media, email or telephone…
Facebook: www.facebook.com/naturalheartbeckyrozanski
Twitter: @NaturalHeartBR
Wordpress: www.naturalheartblog.wordpress.com
Email: becky@naturalheart.co.uk
Tel: 07935961785
---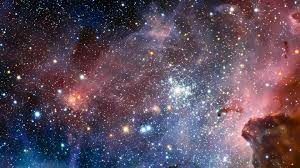 SPACE CONTINUED
Written by Michael Blackburn
Dean is allowing me to continue my Space Odyssey. He's a brave man!
At the end of the last article I said that we would now be heading for the stars but before we set off we have some ground work to do.
Our nearest star, Alpha Centauri is 4.24 'light years' away. Which begs the question what is a 'light year'? To answer that we have to understand the speed of light. Light travels at a speed of 186,282,397 miles per second. Travelling at that speed we could go round the earth 7.5 times in a second! To make life easier for astronomers they converted the speed into 'light years'. A 'light year' is the distance that light can travel in one earth year which is equal to 9,500,000,000,000 kilometres. So Alpha Centauri is 40,280,000,000,000 kilometres from us but it is much easier to say '4.24 Light Years'.
The problem of travelling these vast distances is indicated by the fact that the latest probe to Neptune in our solar system, which is only 4.4 million kilometres from earth, will take 10.25 years to get there. On that basis it would take 30,000 years to get to Alpha Centauri. Yet there are space explorers who are working on getting that time down to 20 years. At the moment, there is a ten year planning phase followed by the 20 years getting to Alpha Centauri and about 4 years for information to be sent back to us because radio waves travel at the speed of light. So that makes it a 34 year plan which has a $100,000,000 investment. (There is a fact which is worth noting). The speed of light converts to one foot equalling a billionth of a second. So if someone is eight feet away from you, you are not seeing them as they are now but as they were 8 billionth of a second ago. Only when we get close enough to hug someone can we truly say we see them in real time. (Let's all get hugging!).
The man who is planning the 34 years project is Russian Billionaire, Yuri Milner. He was born in 1961, studied at Moscow State University then at Wharton School University of Pennsylvania USA. From early on he was an incredible entrepreneur forming many successful companies. His total wealth is said to be $3.1 Billion Dollars (£1.8 Billion Pounds Sterling). He uses his money wisely and has established 'The Breakthrough Prize' which recognizes three fields of endeavour in Life Sciences, Fundamental Physics and Mathematics. Each of the fields receives $3 million Dollars. The Life Science fields have been used to help sufferers of Parkinson's disease.
Working with world-famous scientists such as Stephen Hawking, he is setting about his task the object of which is to investigate the question of life in the Universe. They know that there is a planet at Alpha Centauri as telescopes have seen it crossing the path of the star. If there is one planet then there may be more and there may be life. To get to Alpha Centauri in 20 years Yuri will firstly have to invent a probe small enough to be manufactured in thousands and then a way of thrusting them into space at a speed as close as possible to the speed of light. Yuri says that we already have the technology to build such probes.
The probes he has in mind are to be 'wafersats'- very small less than 4" long and weighing just a few grams. These 'wafersats' would contain all the electronics necessary to photograph their surroundings, test the atmosphere, send signals back to earth and include metre wide 'sails' of reflective material which will help to propel them. It sounds a tall order but extreme nanotechnology of miniaturisation makes such things possible.
To get the 'wafersats' on their way to Alpha Centauri they will be loaded into a space capsule which will be sent in the direction of one of our solar planets where it will be given a 'sling-shot' which will greatly increase its speed. One 'sling shot' could be followed by a second which would, once again, greatly enhance the speed of the capsule. So why aren't these 'sling shots' used to get astronauts more speedily to their destination? The answer is that 'sling shots' can cause gravity forces of up to 9G and these would kill the astronauts whose normal gravity force is 3G.
​
Yuri's plan is that after 'sling shots' the 'wafersats' would be released from the capsule and with the assistance of 'laser beams' from earth and 'photons' in the vacuum of space should reach a speed equivalent to 20 percent the speed of light – some 60,000 kilometres per second. (To understand 'laser beams' and 'photons' we need the help of Stephen Hawking or Brian Cox. As yet Dean hasn't been able to persuade then to join us. (They are too busy trying to understand what happened before the 'Big Bang'!).
Do you want more? You must be tough. It's up to Dean whether he asks me for more. In the meantime I'll leave you on the way to Alpha Centauri.
---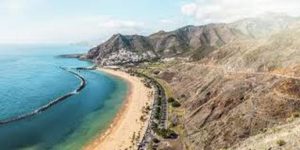 MY HOLIDAY TO TENERIFE
​
Written by Brenda Condoll
For our holiday to Tenerife we booked our flight from Leeds and Bradford Airport. We got ready and packed our things then drove in a taxi to the airport. We then checked in with our passports and our travel documents. We waited patiently until we were allowed to board the plane – the flight was to take about 4 ½ hours.Eventually, we reached Tenerife and everyone clapped because we had landed safely. We then waited for our bags, showed our passports and then looked for where we would be picked up by coach and taken to our hotel which was called Hotel Paradise. After a while we boarded the coach and were driven to our hotel. Once at the hotel we checked in but unfortunately our room was being cleaned so we had to wait about an hour until that was done.Breakfast started at six o'clock and the food was excellent and there being lots of choice. After breakfast, we walked up the coastline and had a large number of cafes to choose from; we had lots of water, tea, coffee and diet Pepsi to drink and some days I had a cheese sandwich or a piece of apple cake – and lots of ice cream. The evening meal, which started at seven pm, was also of a very high standard.All in all we had a lovely time and before we knew it, it was time to come back to England to rain and more rain!
---
POSTSCRIPT TO THE WONDER OF THE BABY IN THE WOMB
By Michael Blackburn
In our country Fox hunting is forbidden.
Cock Fighting is forbidden.
Dog Fighting is forbidden.
Badger-baiting is forbidden.
Magpies are protected.
But the baby in the womb has no protection.
I'VE LEARNED….
I've learned….
That the best classroom in the world is at the feet of an elderly person.
I've learned….
That when you're in love, it shows.
I've learned….
That just one person saying to me, "You've made my day!?" makes my day.
I've learned….
That having a child fall asleep in your arms is one of the most peaceful feelings
in the world.
I've learned….
That being kind is more important than being right.
I've learned….
That you should never say no to a gift from a child.
I've learned….
That I can always pray for someone when I don't have the strength to help them
in some other way.
I've learned….
That sometimes all a person needs is a hand to hold and a heart
to understand.
I've learned….
That simple walks with my father around the block on summer night when I
was a child did wonders for me as an adult.
I've learned….
That life is like roll of toilet paper. The closer is gets to the end, the faster it goes.
I've learned….
That we should be glad God doesn't give us everything we ask for.
I've learned….
That money doesn't buy class.
I've learned….
That it's those daily happenings that make life so spectacular.
I've learned….
That under everyone's hard shell; is someone who wants to be appreciated and loved.
I've learned….
That the Lord didn't do it all in one day. What makes me think I can?
I've learned….
That to ignore the facts does not change the facts.
I've learned….
That when you plan to get even with someone, you are only letting that
person continue to hurt you.
I've learned….
That love, not time, heals all wounds.
I've learned….
That the easiest way for me to grow as a person is to surround myself with people smarter than I am.
I've learned….
That everyone you meet deserves to be greeted with a smile.
I've learned….
That there's nothing sweeter than sleeping with your babies and feeling their
breath on your cheeks.
I've learned….
That no one is perfect until you fall in love with them.
I've learned….
That life is tough, but I'm tougher.
I've learned….
That opportunities are never lost; someone will take the ones you miss.
I've learned….
That when you harbour bitterness, happiness will dock elsewhere.
I've learned….
That I wish I could have told my Mom I love her one more time before
she passed away.
I've learned….
That one should keep his words both soft and tender, because tomorrow
he may have to eat them.
I've learned….
That a smile is an inexpensive way to improve your looks.
I've learned….
That I can't choose how I feel, but I can choose what I do about it.
I've learned….
That when your newly born grandchild holds your little finger in his little fist,
that you're hooked for life.
I've learned….
That everyone wants to live on top of the mountain, but all the happiness and growth occurs while you're climbing it.
I've learned….
That it is best to give advice in only two circumstances; when it is requested
and when it is a life threatening situation.
I've learned….
That the less time I have to work, the more things I get done.
I've learned that with every 'right' there is a 'responsibility.'
---
Editor's Final word:
 Well that's it for another month. I hope you enjoyed reading this edition and feel inspired to send something in yourself to be considered for publication to: deancharltonmag@gmail.com and hope you will consider entering the current two writing competitions. Dean