---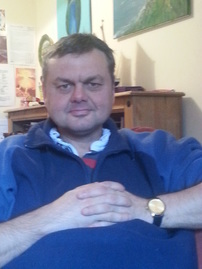 Hello. My name is Dean Charlton and I live in Halifax, West Yorkshire, in England. I am 54 and have, and still have, many health difficulties i.e. I am Bi-Polar, and from time to time, I experience a type of OCD (an anxiety disorder). I have also (with medical help) overcome a cancer called Hodgkin's Disease and severe pneumonia.
When I was younger, I used to drink heavily to try and cope with my mental health problems and this got me into some very shameful and embarrassing situations – I was forever apologising for my bad, drunken behaviour. However, after being beaten up (when I was too drunk to defend myself) I stopped drinking alcohol over twenty years ago – this was a blessing in disguise.
I first started this magazine as a hard copy over twenty years ago but had to stop when I was overwhelmed by printing costs. I thought that was that, and the end of the project. Happily, in 2015, I realised I could resurrect the magazine in the form of an e magazine and this would eliminate costly printing considerations.
The magazine welcomes contributions from anyone as long as they are not intentionally offensive, racist or sexist and it aims to give a voice to the many people who are often unheard. It is a magazine by ordinary people for ordinary people and is a refreshing change to celebrity publications.
I feel that the magazine is progressing well and is now established.
Recently, we started to open up the magazine to advertising but have not yet fully explored this avenue of potential revenue.
On Saturday the 2nd of February 2019, we are having a party at Hebden Bridge Town Hall to celebrate what will be the publication of the 50th edition of the magazine.
The party is for anyone who has contributed to the magazine so if you want an invite, then please contribute something!
You can do this very easily, either by email to me or by filling out the Form on our Contact FTHM Page
If you have anything to share, pictures, video or written content then if it is not inflammatory please send it to us and we will share it.
We are also active on Facebook and Twitter and you can easily view us there as well.
Occasionally, we run competitions that are free to enter and all winners appear in the magazine.Two music albums form part of the project and can be listened to through our website, here.
We have already created a lot of interesting content within the magazine and you can access any of it easily through the search facility below, or you can search through google by pressing the tab key when using chrome web-browser.
We hope you enjoy the content and if you wish to be updated of our regular monthly magazine publications then please subscribe below, or the one above (top right) it's free and you can unsubscribe at any time.
Our Subscription base is growing and we have paid Advertising available in our Magazine at a very competitive rate please view our Advertisers Page to find out more.
If you are interested in writing anything or submitting any recipes or other content please get in touch, we are happy to publish anything if it is not racist or hateful in any other way. Please send any content to dean@fthm.org.uk
We are happy to attribute content to you and if not we can also publish anonymously, simply get in touch with Dean Charlton